We made some lovely chunky beads with this homemade glowing salt dough. Great fun for young children!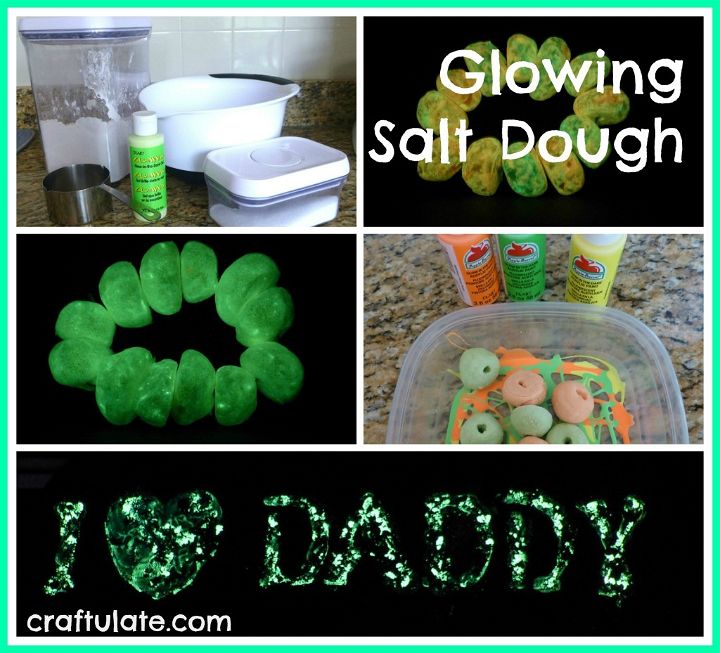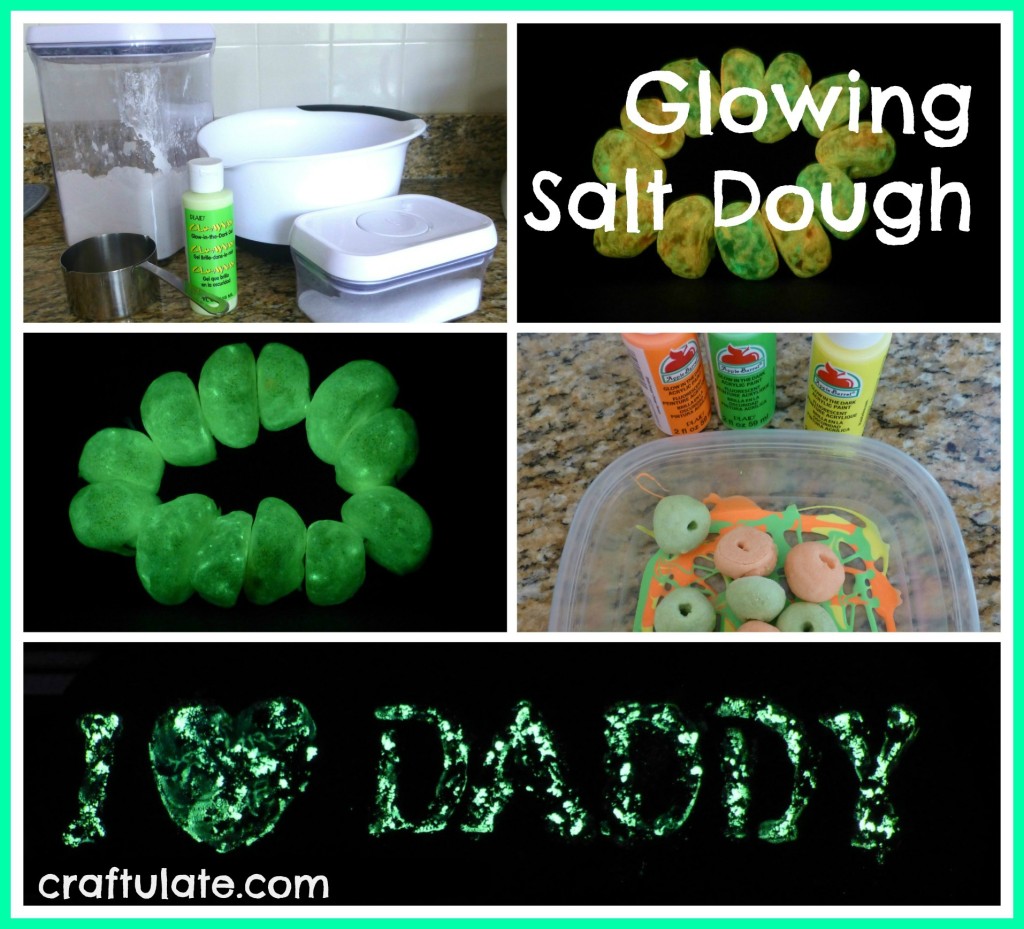 This is a sponsored post written by me on behalf of Plaid Kids Crafts. Please see my disclosure policy. The following post also contains affiliate links, which means that at no extra cost to you I can make a tiny bit of money to help support this blog. Thank you!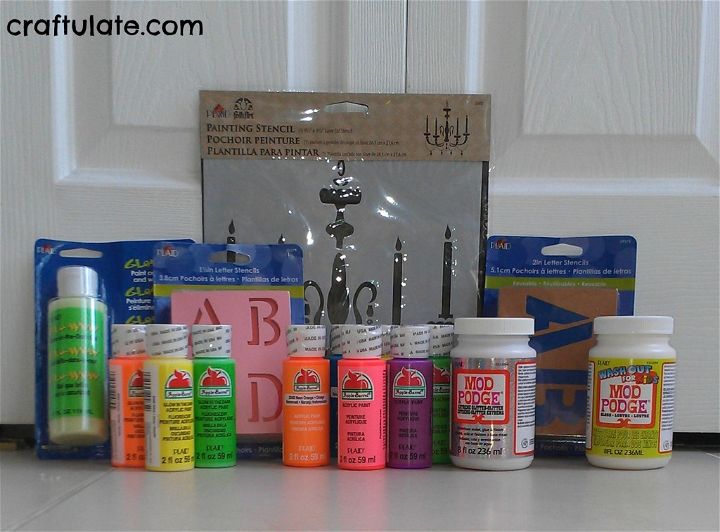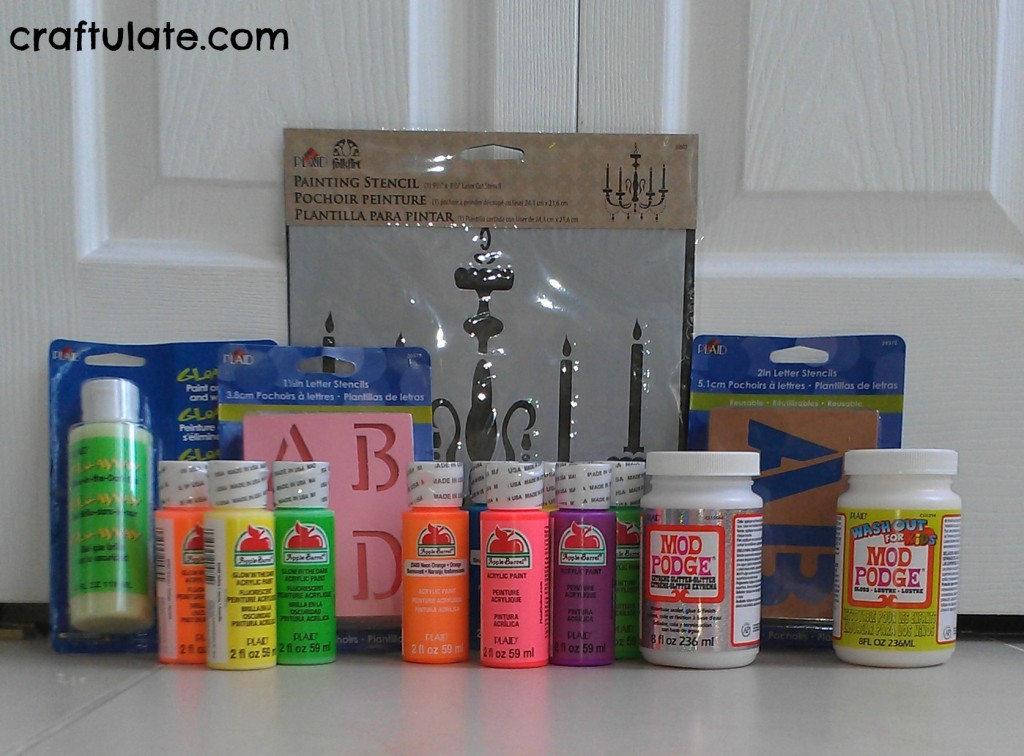 Summer, and more specifically July, mean two important things happen here. We have survived a thunderstormy June so we can look forward to some sunnier weather, and my husband's birthday! The more reliable weather means spending lots of time on our deck, both during the day and early evening. But the temperatures during the day can climb TOO hot for us Brits, so it is a relief to get inside and do some crafts in the wonderful air con!I've been wanting to make some salt dough for ages, and these products from Plaid were the perfect opportunity to get started, AND I could make the dough glow in the dark! For the main batch of glowing salt dough I used Glo Away. It's a very versatile product that can be painted on to any surface and will glow in the dark until it is washed off. It worked really well when mixed into the dough.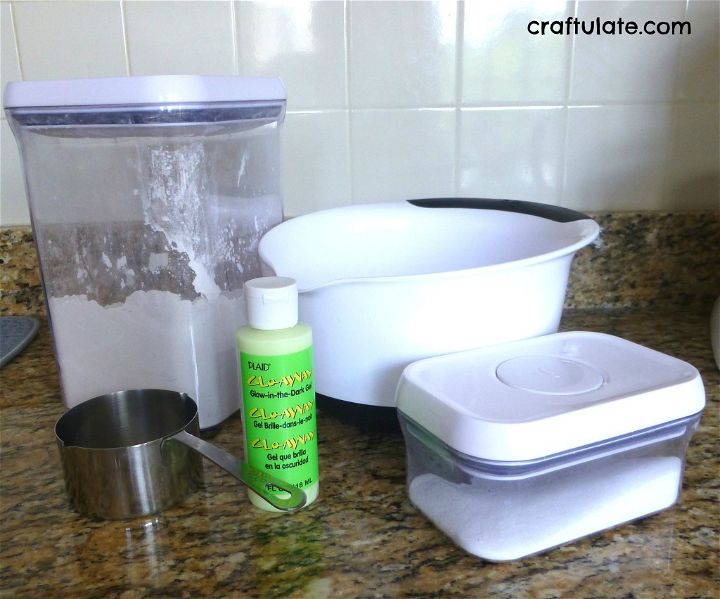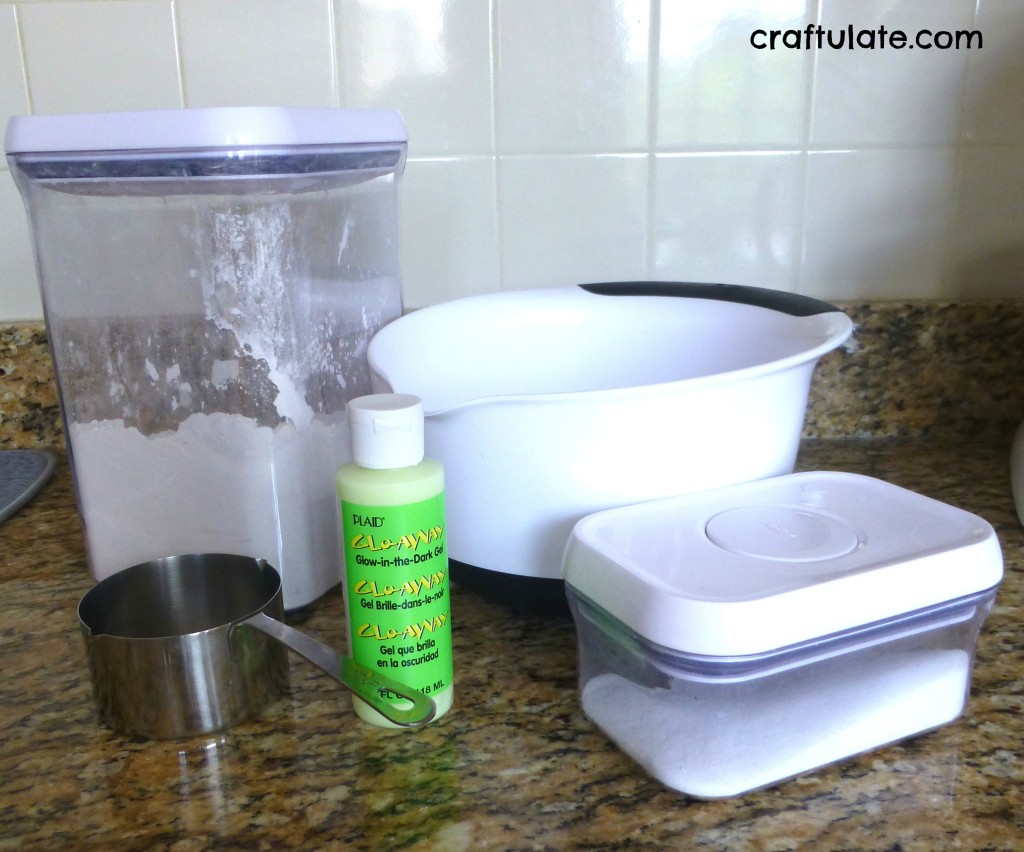 RECIPE
½ cup salt
1 cup AP (plain) flour
½ cup water
Mix the salt and flour together in a large bowl. In a separate bowl or cup, whisk together the water and Glo Away.
Add the water mixture to the dry ingredients – you may not need it all. Stir the dough together, adding more flour if it feels sticky. The dough should feel quite dry.
Keep in an airtight container until required. I prefer to keep mine in the fridge so that the dough is less tacky when it is used.
MAKING BEADS
I decided to make some beads in advance of a planned crafty playdate so I could check the process and show the children what we would be making. Using the recipe above I made some beads by rolling the dough into balls and then using a toothpick to make a large hole through the centre. I tried making some different shapes but the plain round ones worked best! One batch of the above recipe makes around 30 beads, depending on size.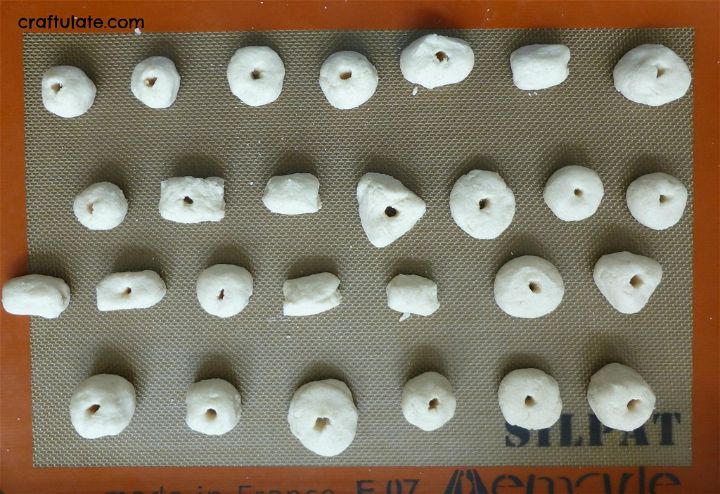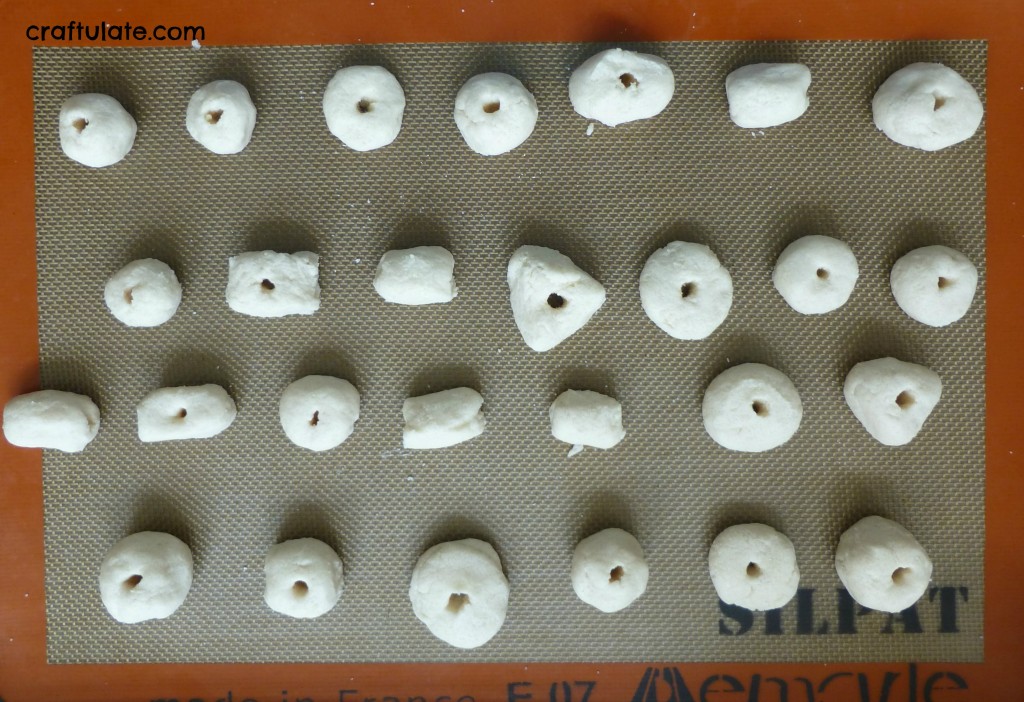 DRYING OPTIONS
Traditionally salt dough is dried in the oven. I dried the beads at 200F (93C) for 45 minutes, turned them over, remade the holes, then gave them another 15 minutes.
HOWEVER –
Rainy Day Mum
has a great idea for using the microwave. I cooked six beads at a time for bursts of 30 seconds on full power* until they came out perfect – mine needed two to three minutes, depending on size. If the dough still feels a little springy then just microwave them for a little longer. This is SUCH a great idea for playdates as the children can make the beads, dry them, and paint or thread them – all in one session.
* All microwave ovens are different; please be very cautious when microwaving salt dough. It is advisable to cook it in 20-30 second bursts and check frequently.
I compared the glowing strength of the two different drying methods, and they glowed just as brightly as each other.
SALT DOUGH PLAYDATE
For the playdate I made some more dough using the above recipe, but also made some  without Glo Away, using Apple Barrel neon paints (2 tbs of paint per batch) to colour the dough instead.
The first task was to make the beads. E (5yrs) and L (3.5yrs) did really well with this. My son, F (2 yrs), didn't have the skills to roll the dough into balls, but he enjoyed trying to poke a toothpick into balls that I made for him!



Once the beads had cooled down from drying in the microwave, it was time to decorate them. We put the coloured dough beads in a container with some Apple Barrel Glow in the Dark Paints, put the lid on, and got shaking! This was a quick, mess free and fun way to get the beads coated in paint!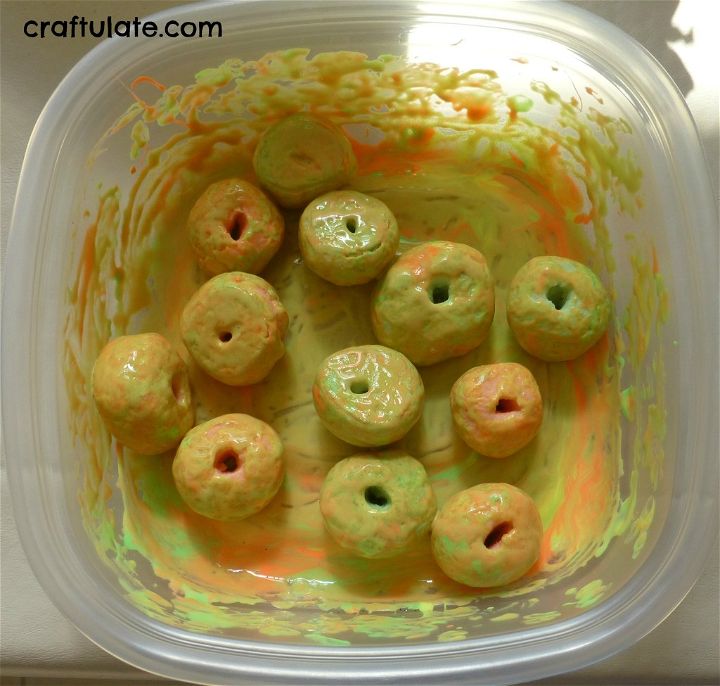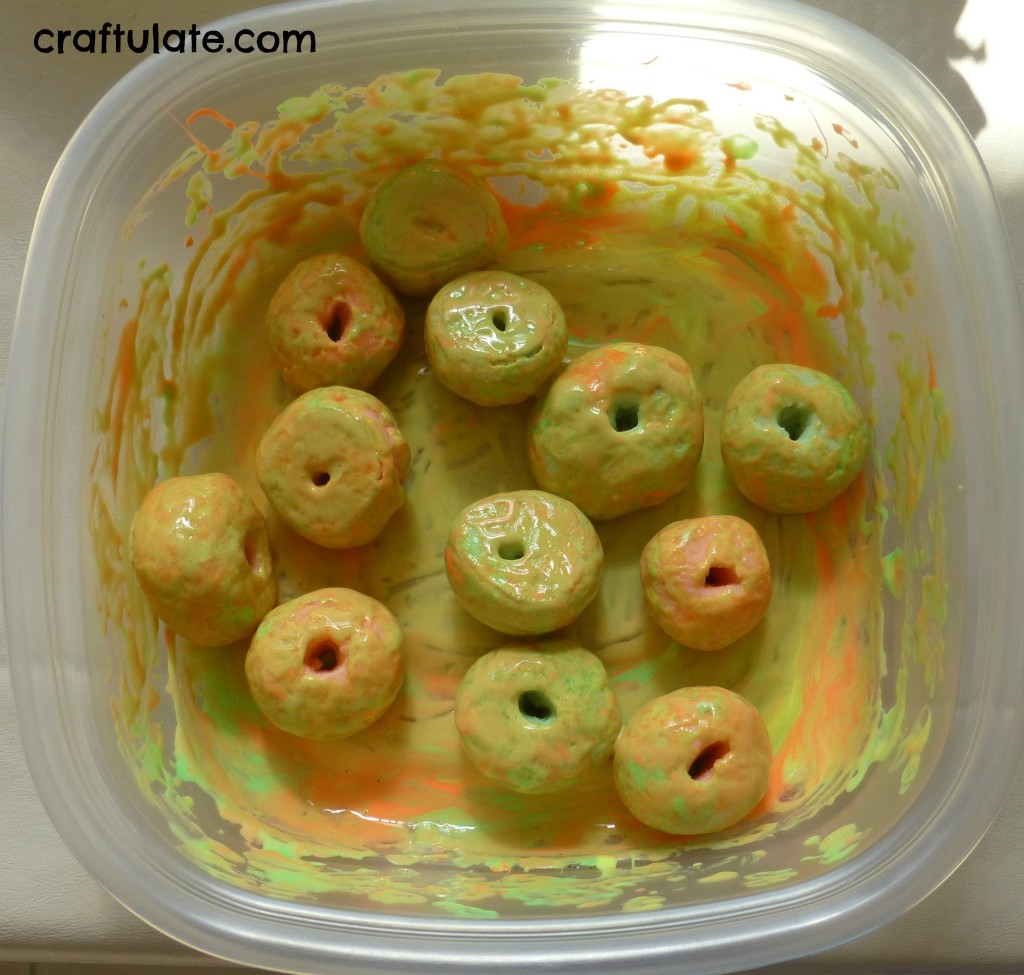 We decorated the Glo Away dough beads by rolling them in Mod Podge Extreme Glitter. This got a little sticky but the girls enjoyed it! Mod Podge Extreme Glitter is non-toxic so it didn't matter if things got messy!
The glitter made the beads look much prettier in daylight, and it didn't affect how brightly they glowed in the dark.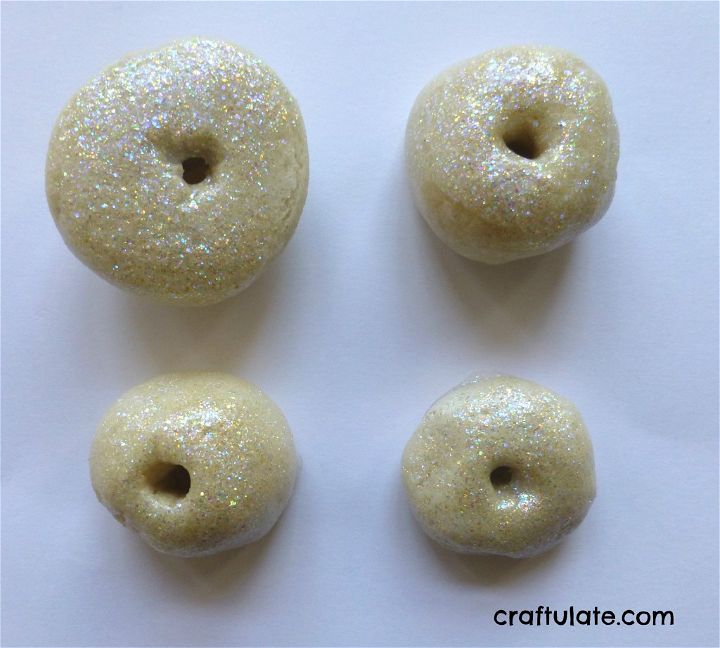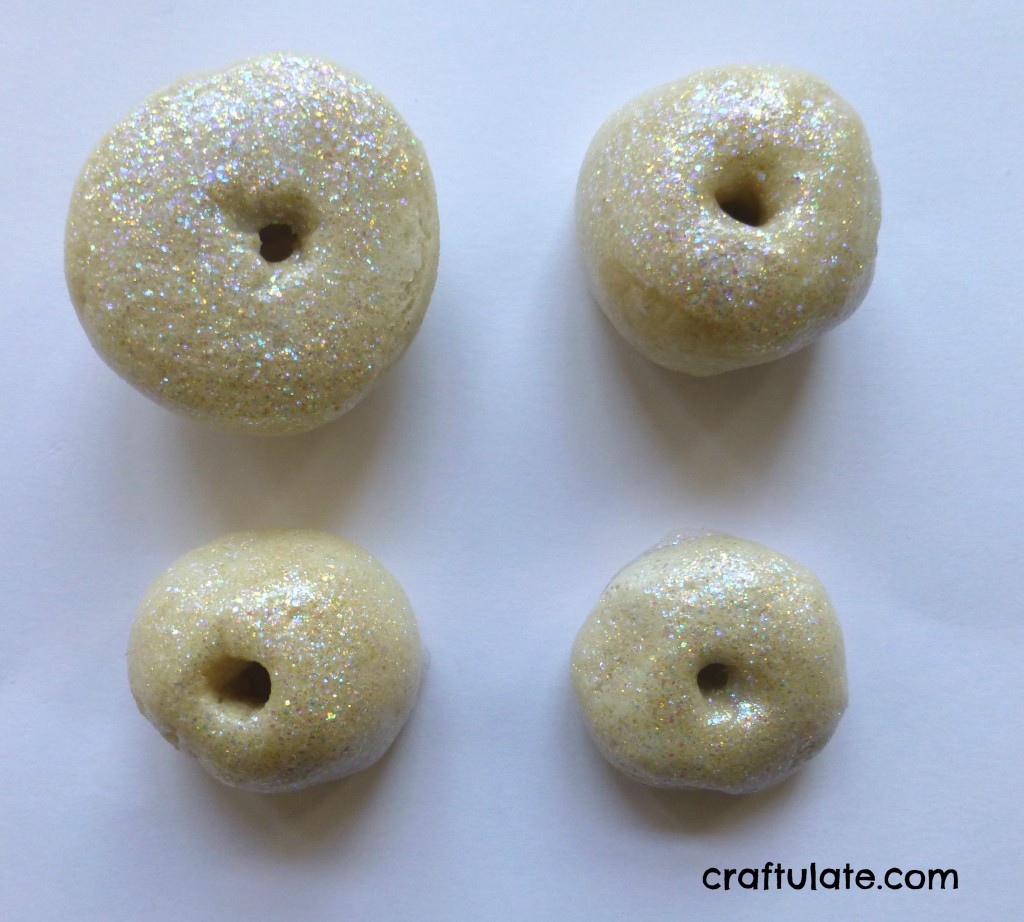 At our next crafty playdate the children threaded the beads onto neon elastic to make bracelets. We started threading using a plastic needle but both girls found it easier to thread the elastic through the beads without a needle.
Here's how a bracelet made with coloured dough and neon glow in the dark paint looks in daylight, and then after a UV charge: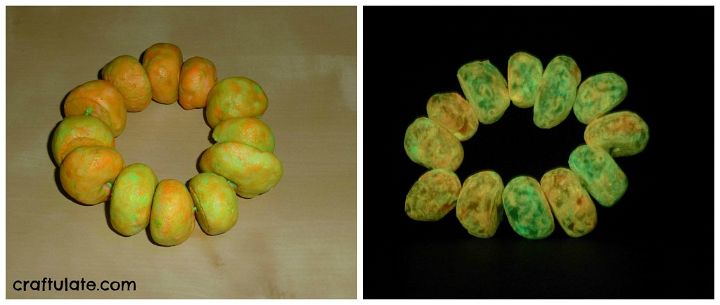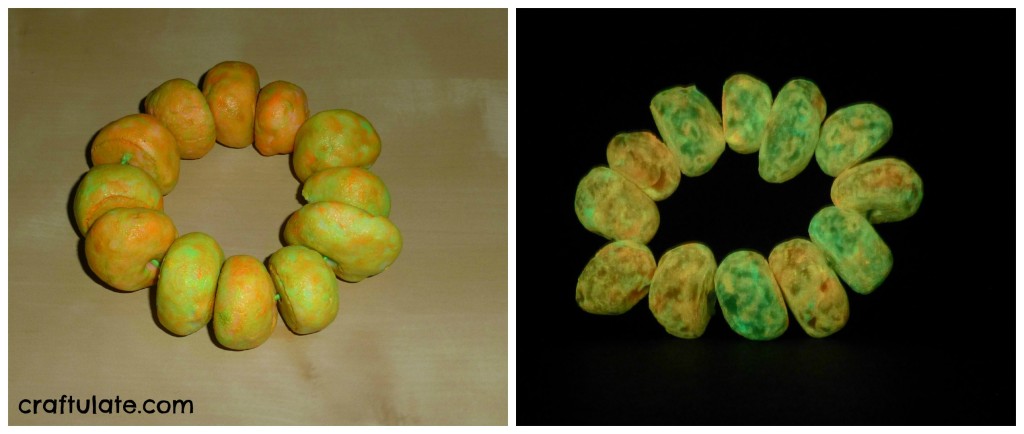 It looked amazing! And here's how a bracelet made with Glo Away dough looks:



Quite different in glow, but just as awesome!
With the remaining beads I made a garland that I hung on one of the chairs on the deck. I used a mixture of the two types of dough. It looks really cool in the summer evenings!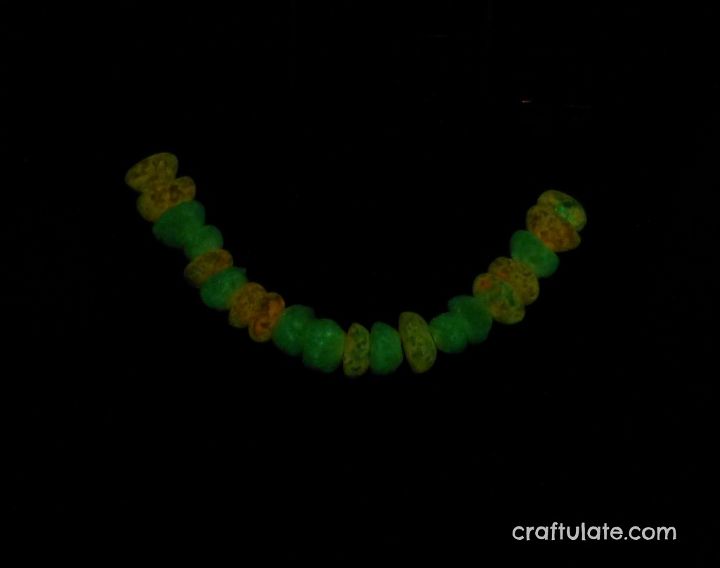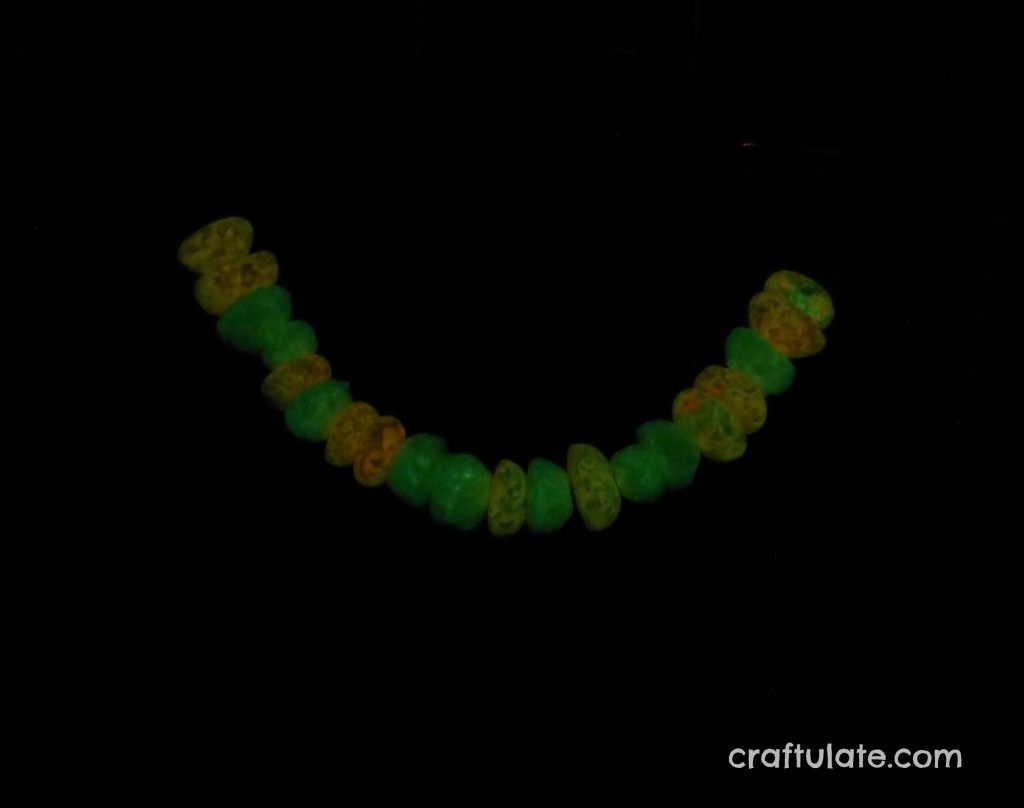 Extra Bonus Craft!
We had some plain dough leftover (recipe as above but without the Glo Away or paint) so my son and I made a birthday present for my husband. We rolled and pressed out the dough. It took quite a while to dry – I didn't want it to cook for too long in the microwave so I gave it a two minute burst every half hour or so until it was dry.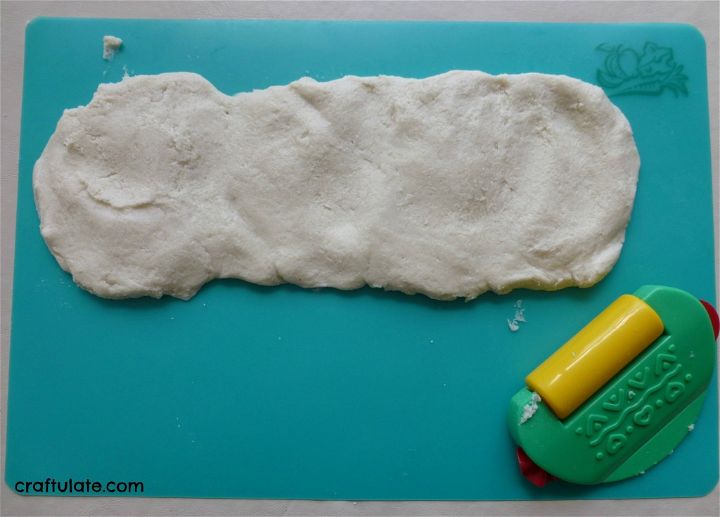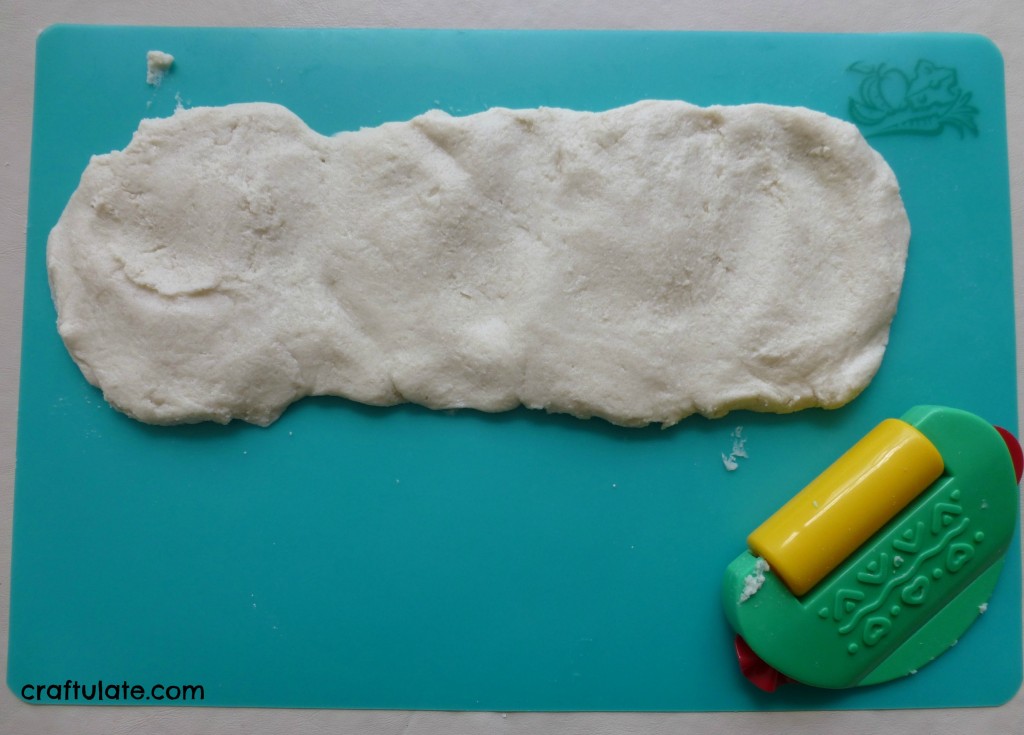 Once the dough was dry we painted it on both sides with Apple Barrel paints, using a combination of neon blue and purple. When the paint was dry I used the Plaid stencils, a paintbrush and Glo Away to write a little message for F's Daddy.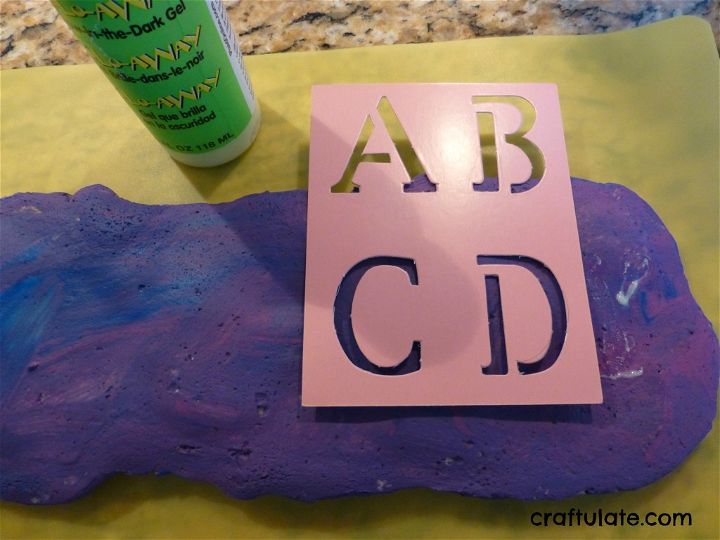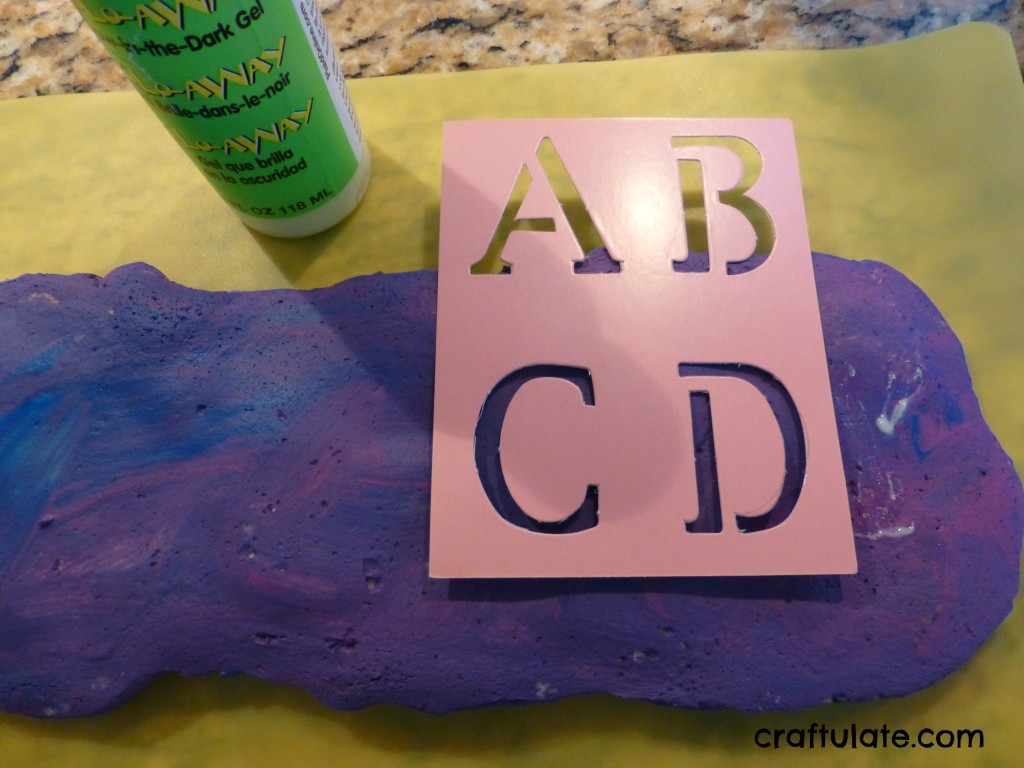 This is how it looks in daylight and when it glows in the dark!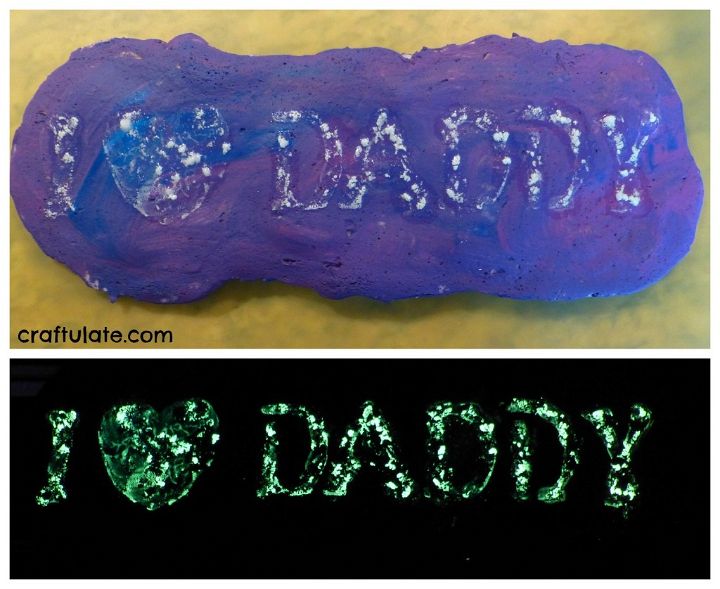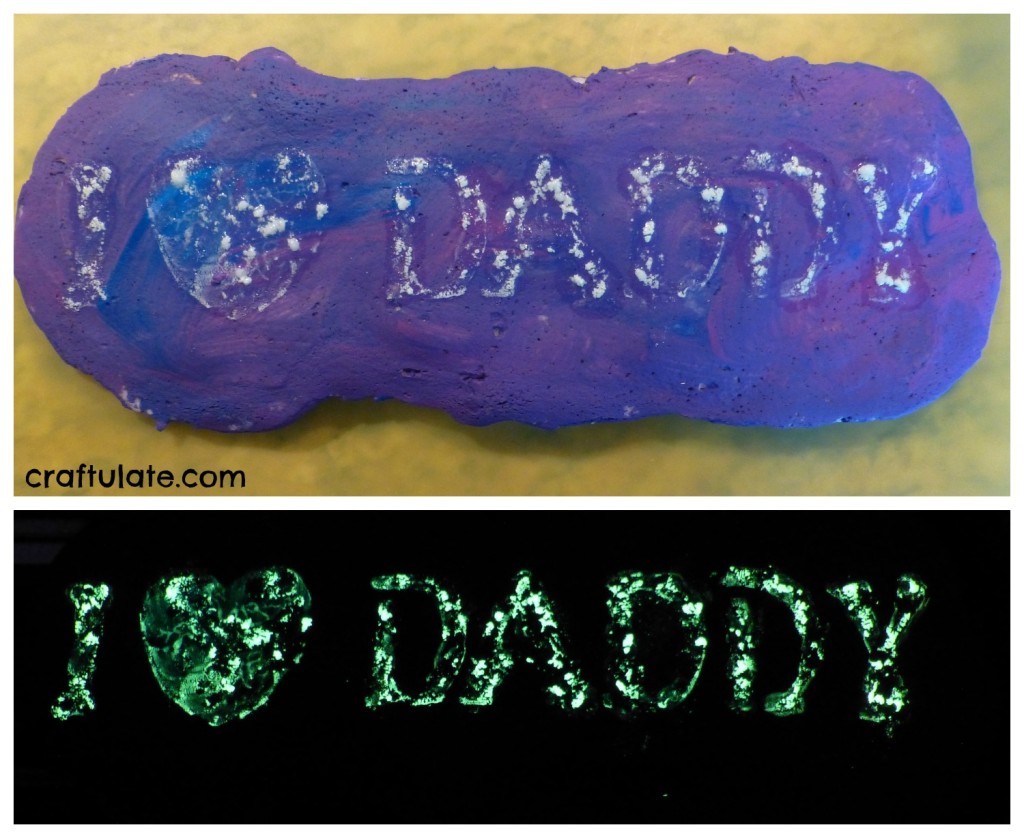 We have it out on the deck and I love how it reveals a "surprise" birthday message!
Find out more about Plaid Crafts by checking out Facebook, Twitter, and Pinterest.