Are you ready for spring? We got in the mood for the next season with this Birds' Nest Small World, complete with homemade salt dough birds' eggs.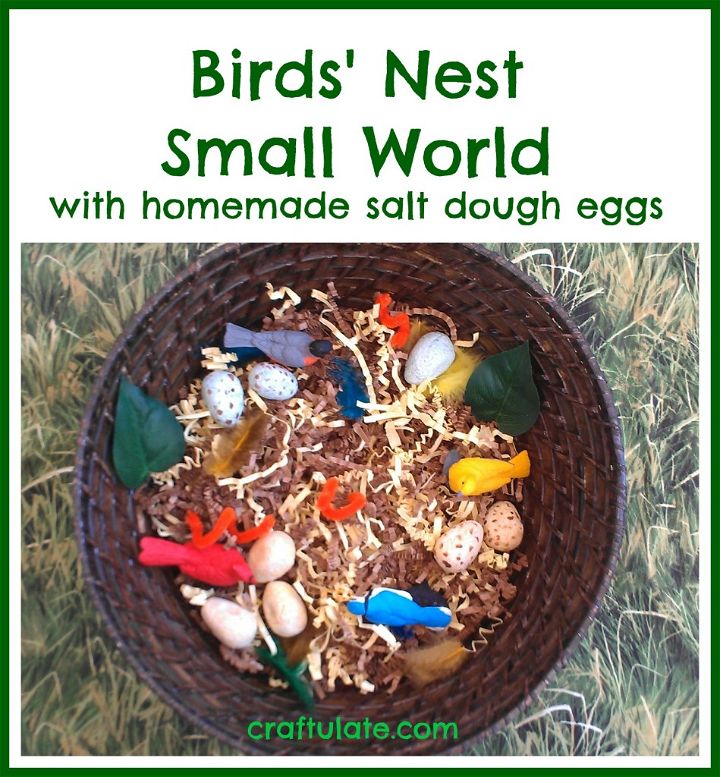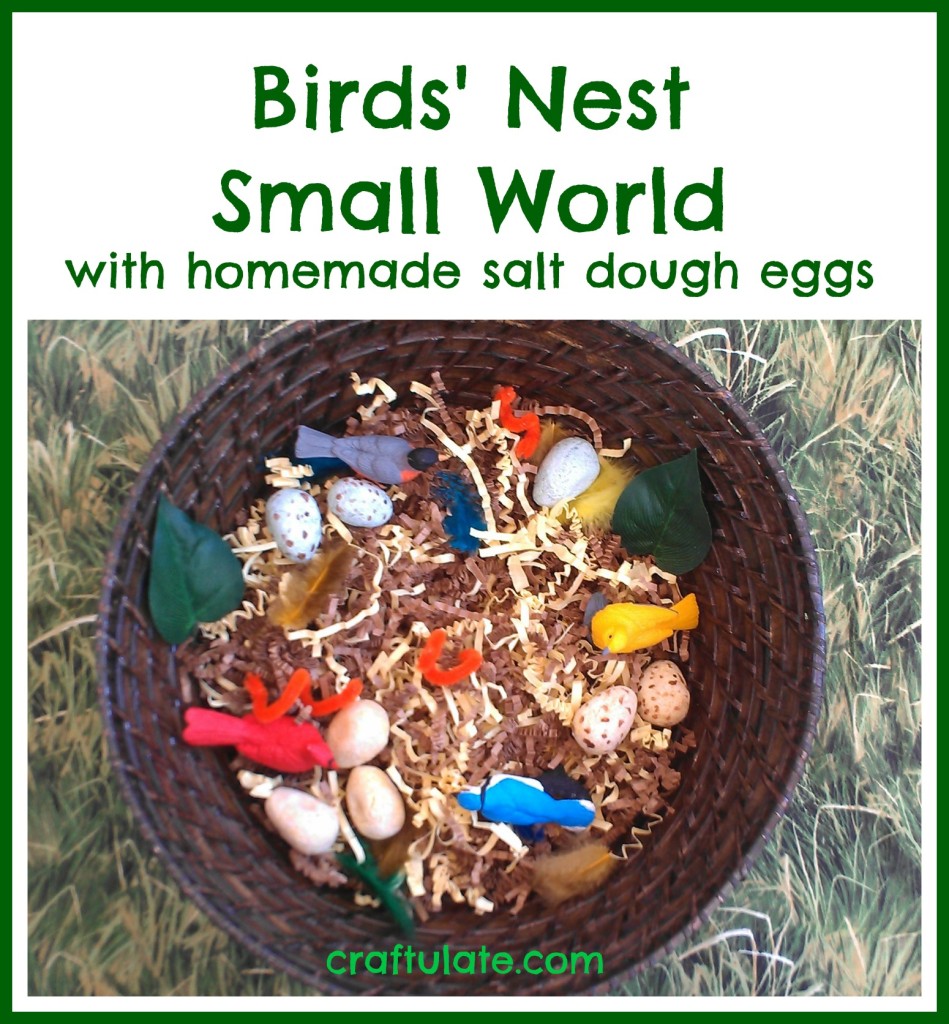 The following post contains affiliate links, which means that at no extra cost to you I can make a tiny bit of money to help support this blog. Thank you!
Sometimes the strangest things inspire an activity – this time it was packets of crinkled shredded paper in the dollar store. It looked perfect for a sensory bin with a nature theme, and this is the outcome!
Here are the components:
Large round woven basket
Shredded paper (those packets from the dollar store!)
Toy birds (I used a Backyard Birds TOOB)
Salt dough eggs (see below)
Pipe cleaner (fuzzy stick)  "worms" (kindly sent to us by our friends at craftprojectideas.com)
Feathers and fake leaves
I nearly used large plastic fillable Easter eggs for this sensory bin, but then decided I could make them from salt dough! This is the recipe I used – it makes about 12-15 small eggs.
RECIPE
¼ cup salt
½ cup AP (plain) flour
¼ cup water
Food dye
Mix the salt, flour and water together in a large bowl. Add water if the mixture is a little too crumbly, or flour if it is too sticky. It is easiest to use your hands at this point.
Divide the dough in half, and add ONE drop of yellow food dye to one half, and ONE drop of blue food dye to the other half. Knead the dough until the colour is mixed into each half.
Shape the dough into little egg shapes, place on some wax paper and leave to dry. Mine took about 24 hours, but I rotated them regularly so that they didn't get a flat side. 
After they had dried, I used a tiny paintbrush and brown paint to add speckles. These triangle handle brushes and little paint pots – also from craftprojectideas.com – were perfect for the job!
Once the eggs were dry, I assembled the sensory bin, twisting small lengths of pipe cleaner into curls as inspired by Powerful Mothering's bird-themed Pincer and Fine Motor Practice.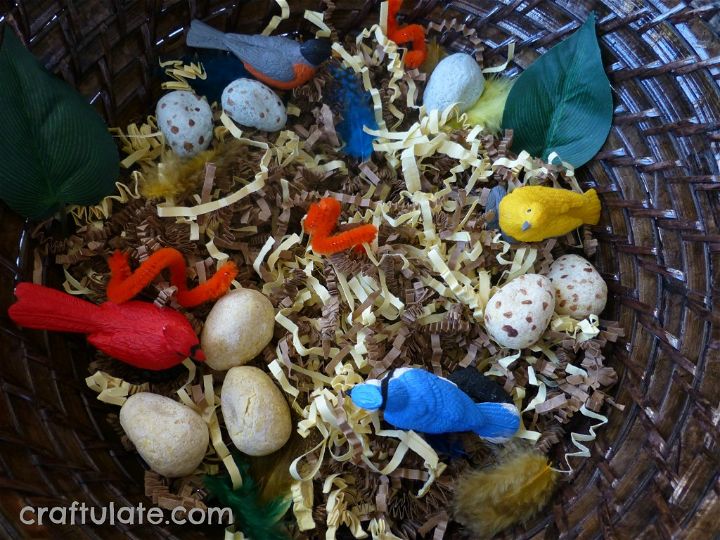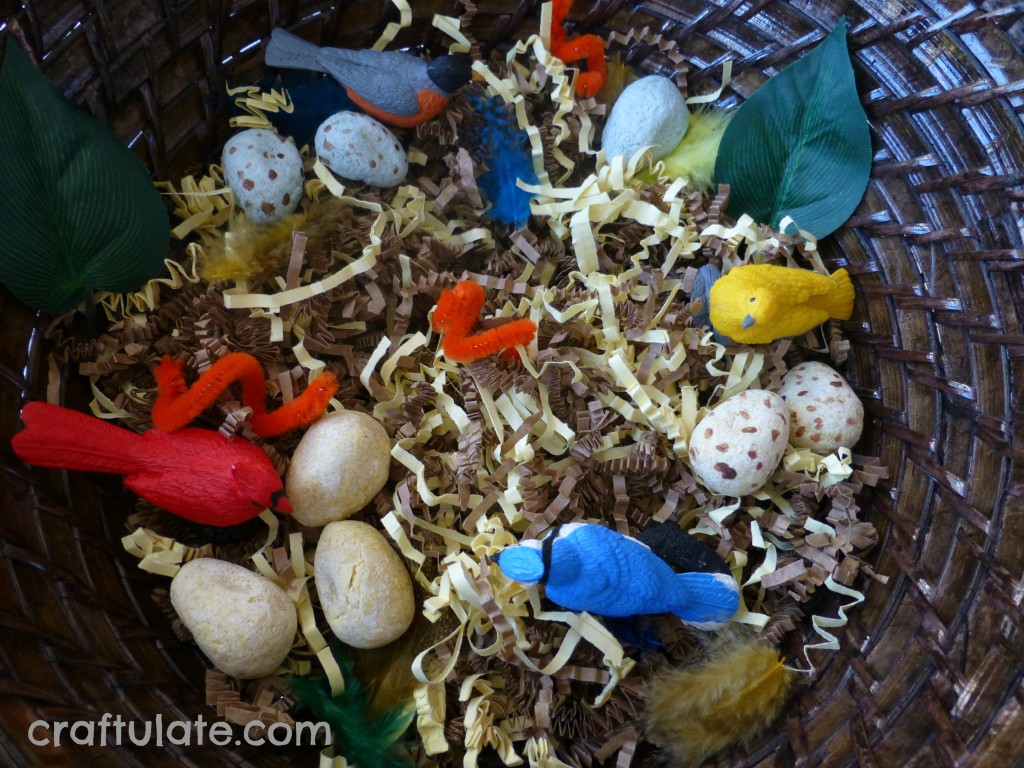 When F saw it he immediately started to look at each bird, and then he pulled out the pipe cleaner worms. I explained to him that worms are what birds eat. Then he checked out the eggs, looking at the different colors and then counting them all.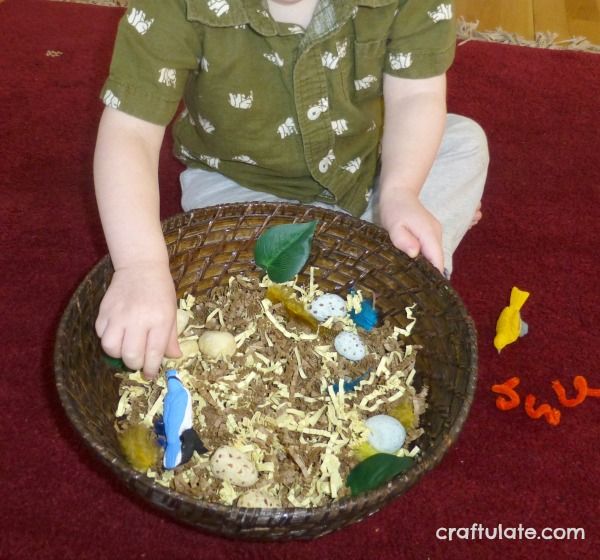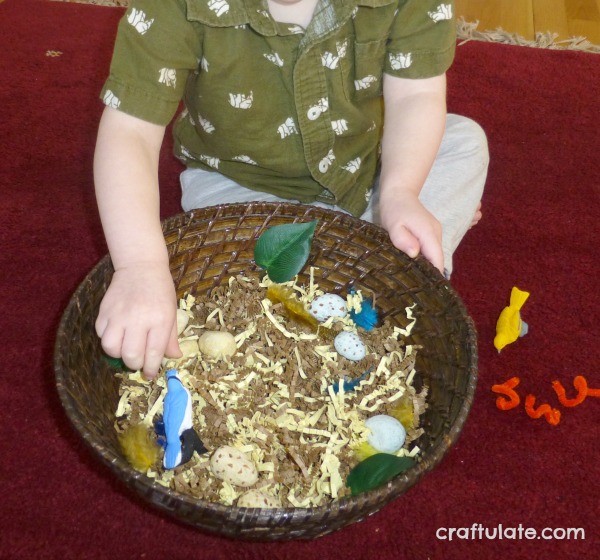 This was a really fun way to start learning about a birds' nest, with some bonus sensory play too!