Do you need toy car storage solutions? Here are some great ideas for you!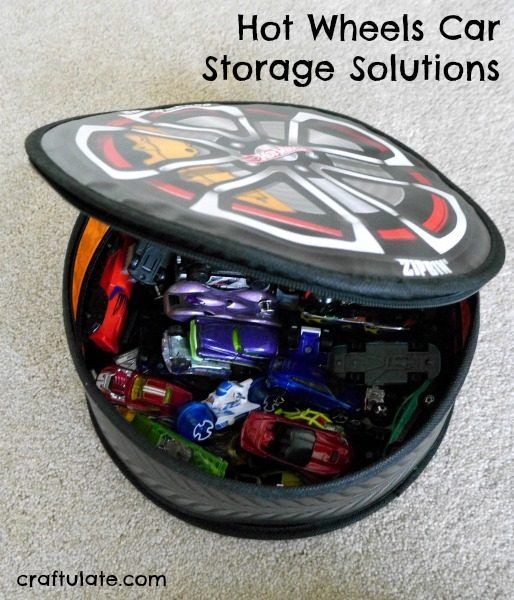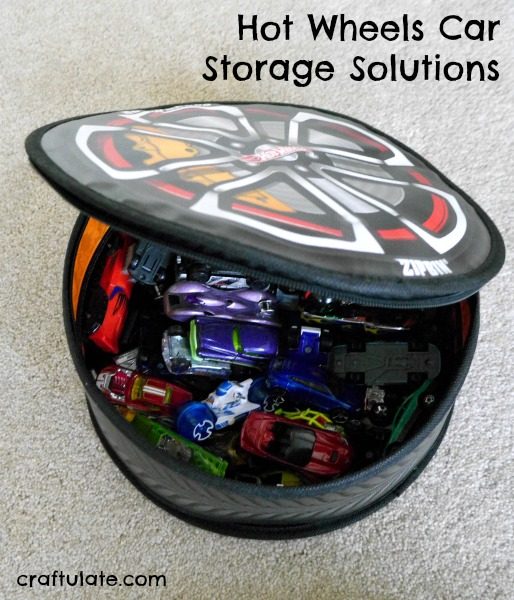 Disclosure: I was provided with these toys from Neat-Oh free of charge in exchange for my fair and honest review. Please see my disclosure policy. This post also contains affiliate links, which means that at no extra cost to you I can make a tiny bit of money to help support this blog. Thank you!
As you may recall, my son recently had a Hot Wheels themed birthday party. Last Christmas was all about Hot Wheels cars and tracks. Our neighbor donated a box of old Hot Wheels cars. Yep, we're kind of drowning in them! Right now they are just stored in a big tote, cars and track altogether.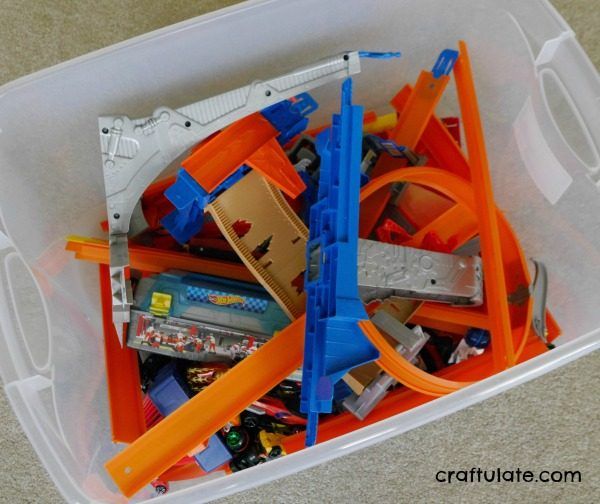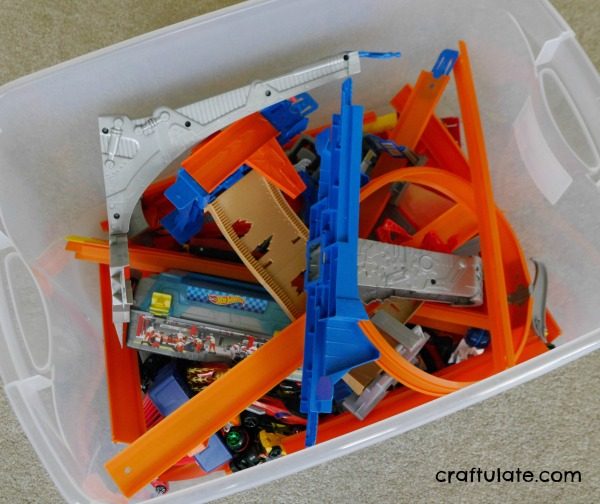 My son always seems to be looking for a particular car, too. When his main interest was trains, I knew Thomas' name AND his friends. I knew all the Chuggers. But cars don't have the same characters as the trains, they aren't merchandised the same way. F feels differently – and appears to have given them all names.  But with everything thrown together, he has no chance of finding anything. And this upsets my organised brain. 🙂
So when I was offered the chance to try out some Hot Wheels storage – I didn't hesitate!
The first option we tried was the Hot Wheels ZipBin Wheelie 100 Car Case.


It also comes with a free car (which got named "Black Hot Rod Pinky Stink" – he's 5, what can I say?!?). The wheel-shaped case has a zipper on each edge, and when both are unzipped, it unrolls into a double lane race track!
After playing with it, we zippered up one side and loaded in all the cars!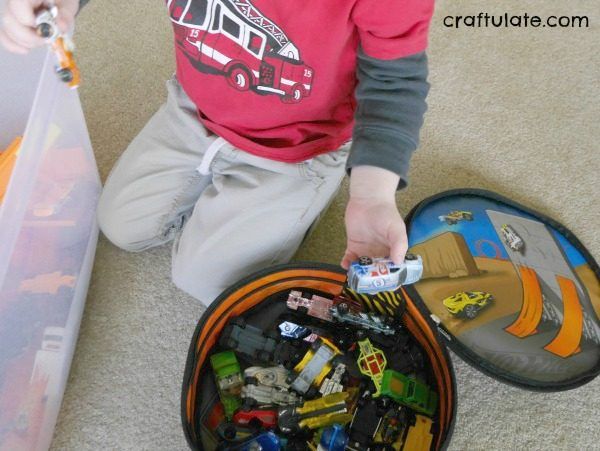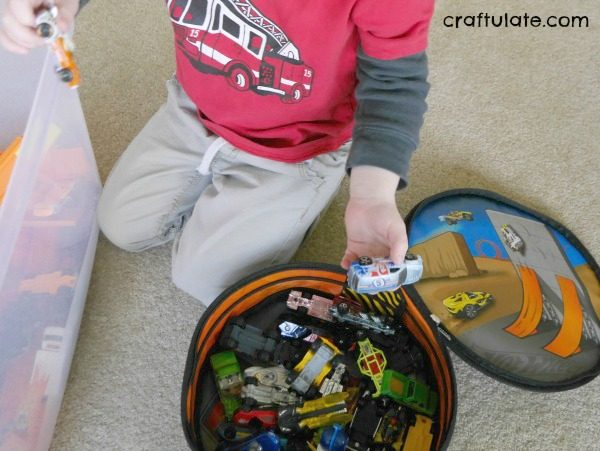 My son's words were "This is an awesome cool toy" – and I'm happy because it really helps with storing the cars!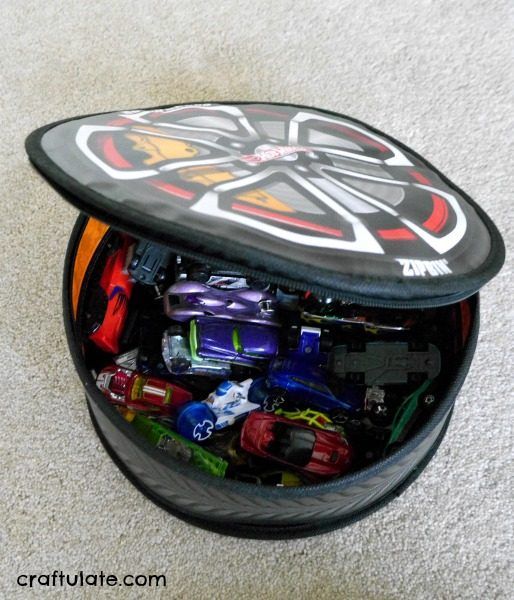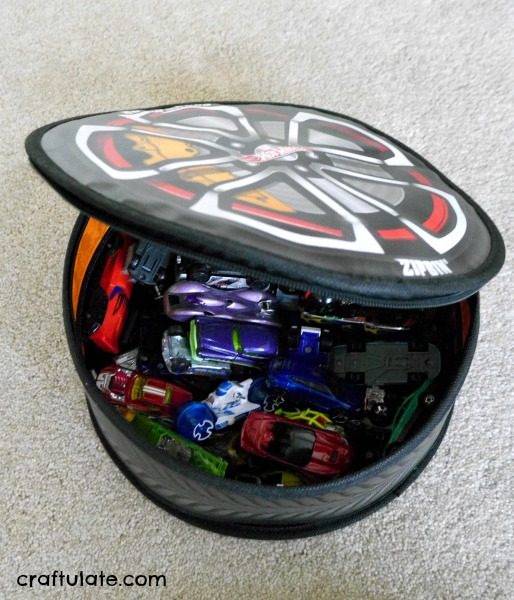 The next day I surprised F with this Hot Wheels Zipbin 45 Car Crash Racer Backpack.


He was also pretty happy to receive this – and even more so when he realised that this too opened up into a track! (This also comes with a free car!)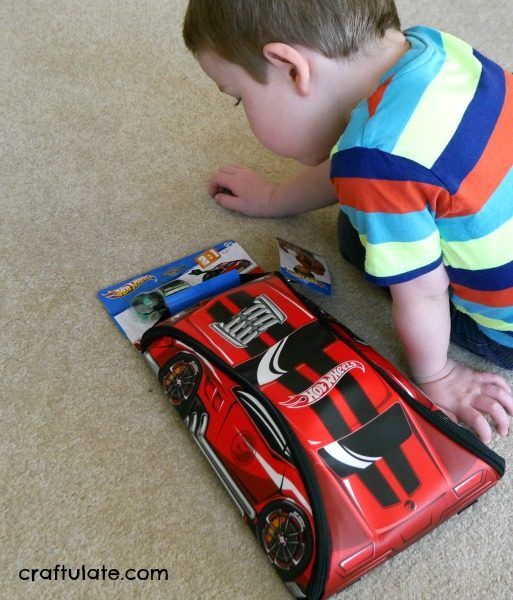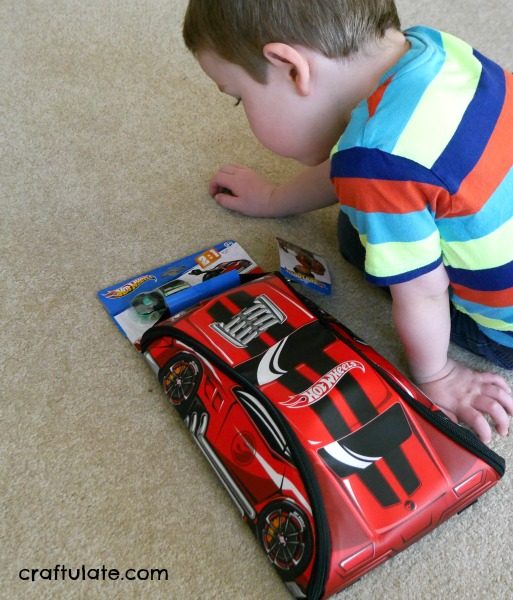 This backpack isn't for storage in the same way – but will be SUPER useful for transporting his favorite track and cars around. I'm thinking particularly for airports!
Want more Hot Wheels storage ideas? Why not try the Neat-Oh! Hot Wheels ZipBin Ramp It Up! 100 Car Tote (with free car) or the Neat-Oh! Hot Wheels 18 Car Vintage Tin?!?
Want to make your toy car display? Try these ideas:
DIY Wooden Crate Storage and Display for Cars from Frugal Fun For Boys
Truck Grille Toy Car Organizer from Arts & Crackers
Used Tire Toy Car Storage Shelves from Spaceships and Laserbeams
DIY Hot Wheels Display Ideas from Moms & Crafters