Kids love to draw, and parents love their kids' drawings – so it's no surprise that many proud moms and dads want to display some of those mini masterpieces in their homes. If you're one of those parents, you might be wondering about the best way to do it. Sure, you could just stick a couple smaller pieces to the fridge door, but there are so many more options to celebrate your children's creative talents! Let's find out how to show off your children's artwork by integrating those paintings and drawings into your home decor scheme…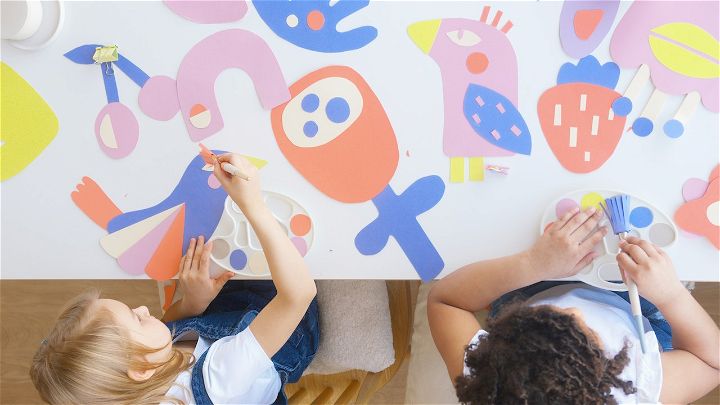 Turn Children's Art into Canvas Prints
Let's start with a rather unconventional option. Have you thought about scanning your children's pictures and turning them into wall art prints? It will take a little bit more time than sticking the picture directly on the wall, but the results can be amazing – provided you choose the right material to print on. We recommend going for canvas prints – their slightly textured surface, borderless design, and overall arty look make canvas the perfect print format for your kids' best pictures.
By the way, if you don't have a scanner at home, you can also try photographing the drawings and then transferring the files from the camera to your computer. Most modern cameras, including those on smartphones, are good enough to produce pixel-perfect digital copies.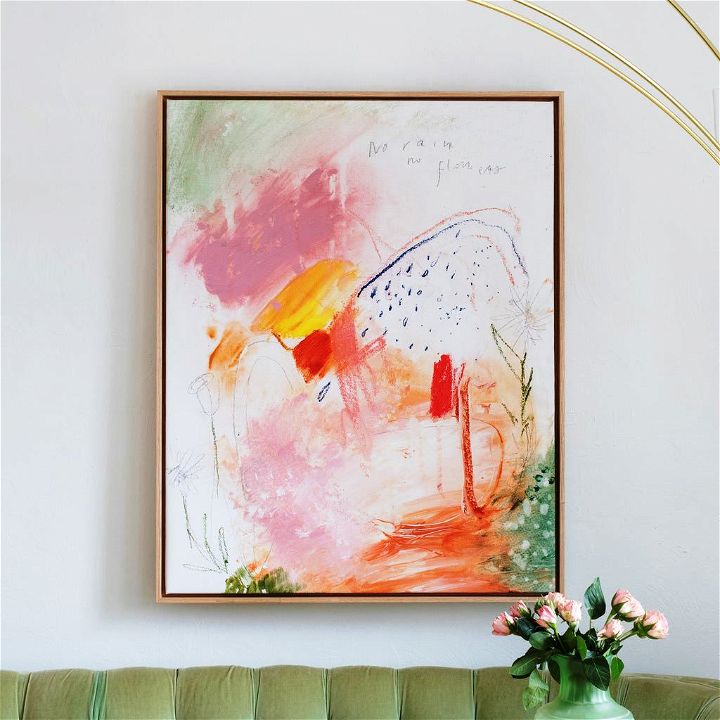 Frame & Display
This is arguably the easiest and most popular way of showing off your children's creativity: just put the artworks in photo frames and hang them up on the wall. Alternatively, you can use standing frames and display them on horizontal surfaces such as shelves, tables, and mantelpieces.
The most important thing is to find the right frames. The more formal traditional frames don't always integrate well with the natural vitality of children's artwork, so it's better to use bright decorative frames in simple styles.
Create a Drawing Clothesline
Hanging photos with clothespins on a piece of string is a great quirky design solution, and the same technique works just as well with children's drawings and paintings. All you need to do is attach two little hooks to the wall and hang a string between them (ideally allowing the clothesline a little bit of slack). You can also use ribbon instead of string for a bit of extra color if you want to. Then hang the artworks on the line using the clothespins, and there you go: a simple decorative display created in minutes!
Use Artwork for Personalized Home Textiles
You might have heard about layering and how effective it is in home decoration. Decor layers – which can be a whole range of things, from window dressings to wall art – add depth to a room and make it cozier. And one foolproof way to layer a room is to put blankets and throw pillows on your sofas and armchairs.
You can buy these in a home decor shop or go for unique artist-made designs, but mass-produced items can lack character, while handmade items will be expensive. We suggest an alternative solution: creating one-of-a-kind home textiles featuring scanned versions of your children's artwork.
There are plenty of online printing providers who offer custom textiles, many of them a lot more affordable than you might think. So why not create different sets of prints for different seasons of the year?
Experiment with New Print Formats
Wall decoration isn't the only option for printing your children's drawings and paintings. If you do scan the artworks and convert them to digital format, you'll have countless display options to choose from. These days the diversity of printing formats is amazing – for example, you can also use your images to create fun and original accessories. Some printing providers will transfer your children's artwork onto customized mugs, mouse pads, tote bags, and more.
And these kinds of fun but touching items make perfect personalized gifts for members of the extended family, especially those who perhaps don't get to see the new generation as often as they'd like. A custom accessory can also make a great alternative to a desktop photo of the family at your workplace – a personalized mouse pad featuring your kids' artwork will make you the envy of the whole office!
Embrace the Sense of Freedom
If you're not 100% sure your children's drawings will fit in well with your home's design scheme, we understand. It's not always easy to combine classical furniture or expensive textiles with kids' whimsical creations. But just think of your children's drawings as having completely free expressionist flair – so vibrant that they make their own rules for both palette and style!
You can also ask your children to create something specially to be used as room decoration – if you talk with them about the colors and styles that would work best, you'll be surprised how creative children can be even within certain guidelines.
A Foolproof Decoration Strategy
Now that we've listed several ways you can use children's drawings in home decor, it's time for one last piece of advice that will help you show off even their most unconventional pieces without committing any design crimes.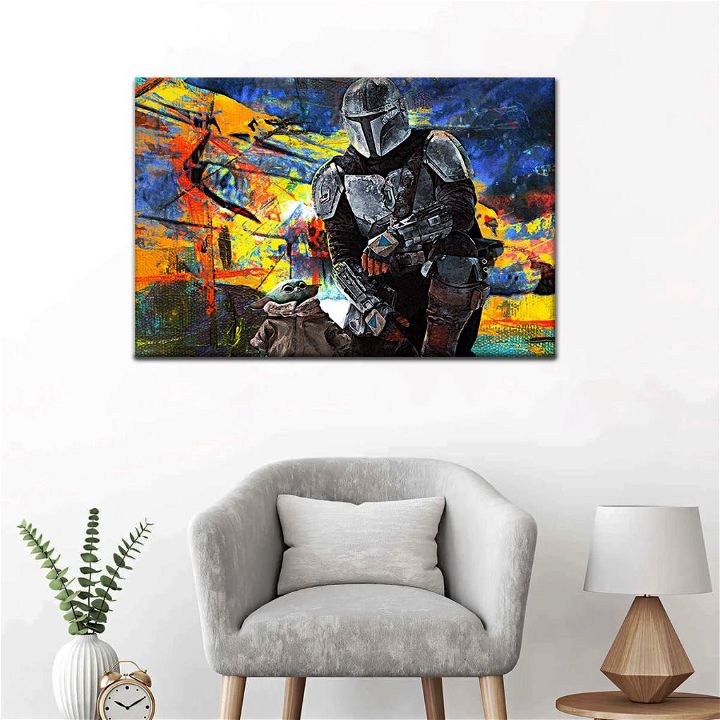 Include your children's artwork in an eclectic gallery wall where the main aim is to draw attention to the overall arrangement rather than one particular feature. Of course, you should still follow the general rules of any well-styled gallery wall and make sure it has a coherent theme running through all its elements, as well as giving each feature at least a bit of breathing space.
Here's just one example of how you can organize a gallery wall with your children's drawings. If you're a travel-addicted family, why not create a photo corner dedicated to your trips? You can display not just photos and postcards but also the kids' artwork inspired by the different places you've been. You can use the originals – though in this case it's best to get them framed to protect them from wear and tear – or have them printed on canvas or other materials.
Ready to breathe new life into your home decor? Then it's time to ask your children for their help!