If you're looking for holiday gifts for a little one who likes trucks – check out our top 10 books about trucks!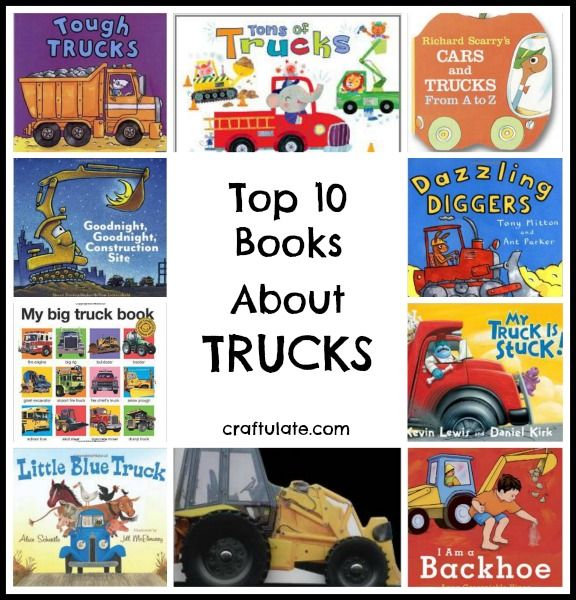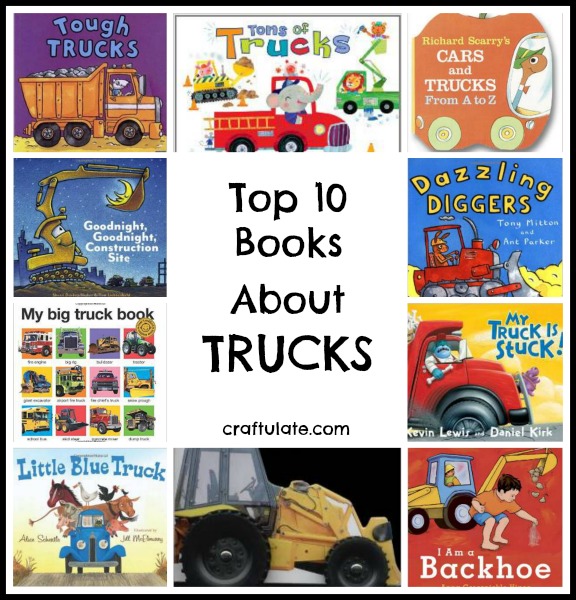 The following post contains affiliate links, which means that at no extra cost to you I can make a tiny bit of money to help support this blog. Thank you!
Trucks are BIG in this household. Trains are big too – but there are so many DIFFERENT kinds of trucks that they slowly seem to be taking over! We have some fantastic truck books that I wanted to share with you.
Little Blue Truck by Alice Schertle
This cute and fun story is about a Little Blue Truck that helps a big dump truck. There is another book in the series: Little Blue Truck Leads the Way which we also like.



Tough Trucks by Tony Mitton and Ant Parker
This book is part of the excellent Amazing Machines series, and is a wonderful mix of fun, rhyme and information.




Cars and Trucks from A to Z by Richard Scarry
This is a whacky little book featuring real and imaginary cars and trucks. Let's just say that the first four pages run like this: "Ambulance, apple car, bananamobile, bugdozer, corn car, crayon car, delivery van, dump truck…" We also have a printable Art Book to go with this book!



Goodnight, Goodnight, Construction Site by Sherri Duskey Rinker
This popular book is a lovely gentle read. It features the vehicles on a construction site all finishing work for the day and going to sleep.
I am a Backhoe by Anna Grossnickle Hines
This book can be hard to get hold of – but buy it if you find a copy! A little boy pretends to be different construction site vehicles, including riding on his Daddy's back as if it was a flatbed truck.
Probably MY favourite trucks book! It is very interactive with lots of moveable parts that are great quality and will last us a long time.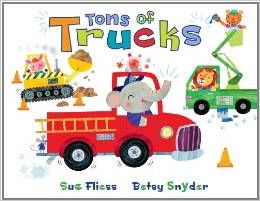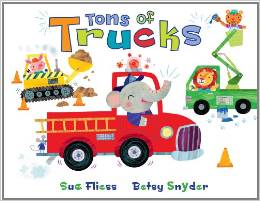 In the same series as Tough Trucks – this is another very successful book in terms of conveying information in a fun style.
My Big Truck Book by Roger Priddy
This book features bright bold photos and is a wonderful visual guide to trucks.
Wheelie Board Books by DK Publishing – Digger, Monster Truck, Fire Truck and Dump Truck
These fun books have moveable wheels so the books can be rolled around! Bright and engaging photos throughout.



My Truck is Stuck! by Kevin Lewis and Daniel Kirk
A fun story about two dogs driving a dump truck that gets stuck, and the people they ask to help them. Good rhymes and fun illustrations.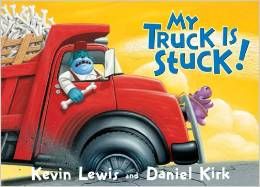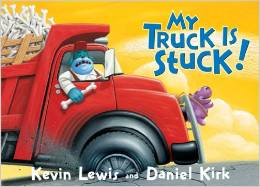 I hope you enjoyed our truck book selection! If we've missed any of your favourites please leave me a comment and I'll check it out! This post is part of the "Top 10" series – check out the rest of the Christmas ideas from my co-hosts!