This letter match activity uses a sticky wall to match foam letters to pictures of familiar objects.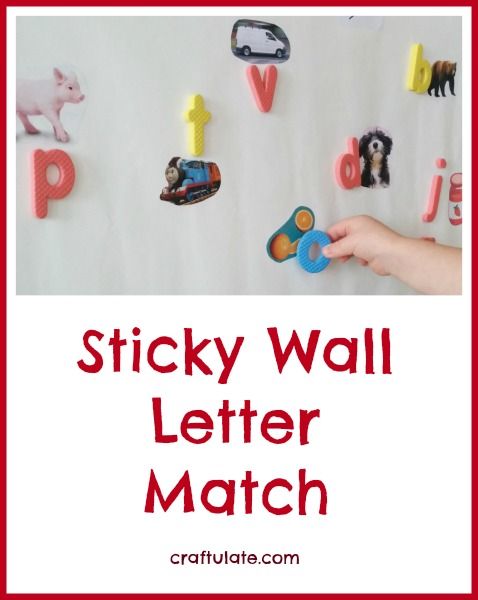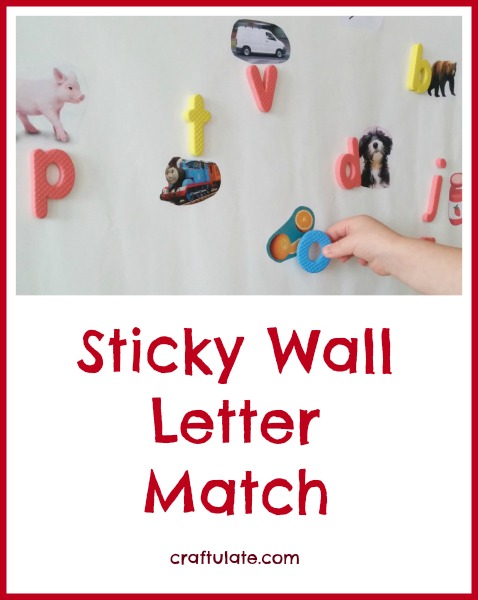 The following post contains affiliate links, which means that at no extra cost to you I can make a tiny bit of money to help support this blog. Thank you!
To make this letter match activity I used the following materials:
White contact paper (although pretty much any color would work!)
Painters' tape
Foam letter puzzle (I got mine from the dollar store but it is just like this one)
Pictures of items with initials A-Z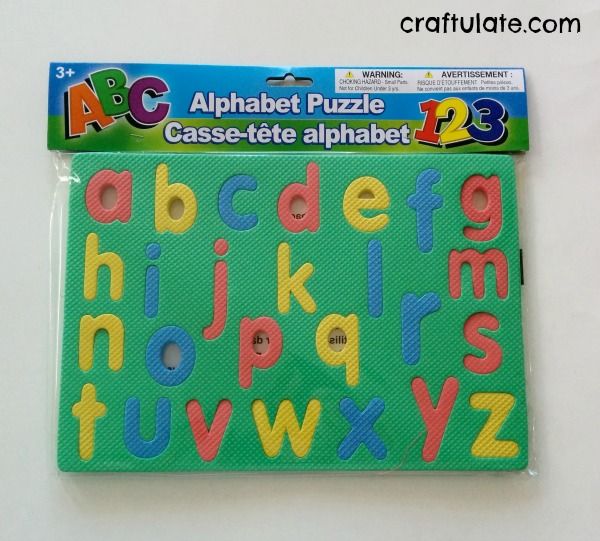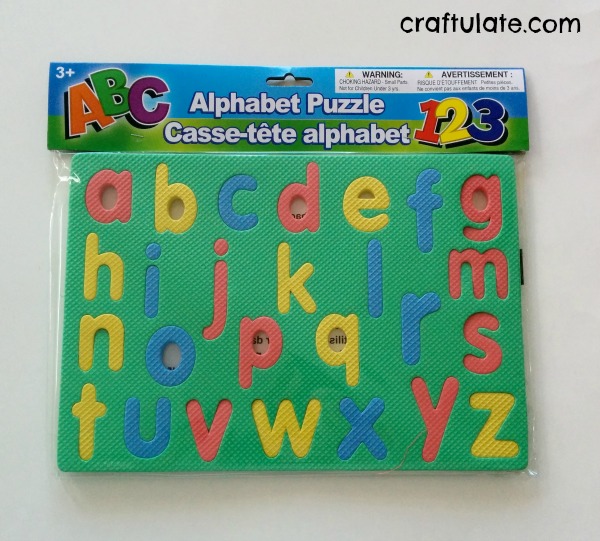 I found the pictures from a mixture of catalogues, magazines, and used dollar store workbooks. It took a little while to find all 26 and I had to use a few clipart images to fill in the gaps.  I cut a large piece of the contact paper from the roll and taped it to the wall, sticky side out.  I then stuck the pictures around the paper, leaving space to add the letters.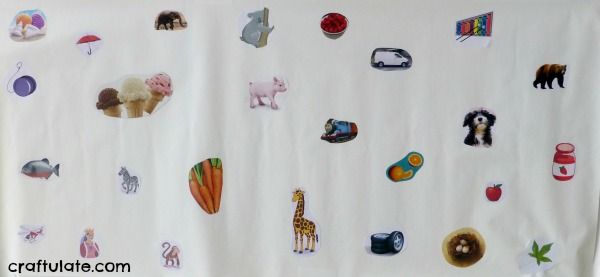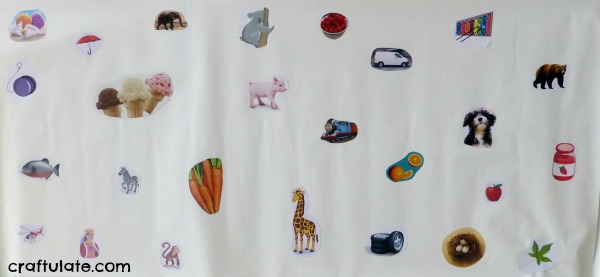 I provided F with the letters and encouraged him to match them to the pictures. This isn't easy for him right now and we have to really sound out the word slowly to work out which letter it starts with. He spotted the Thomas train and ice cream pictures straight away!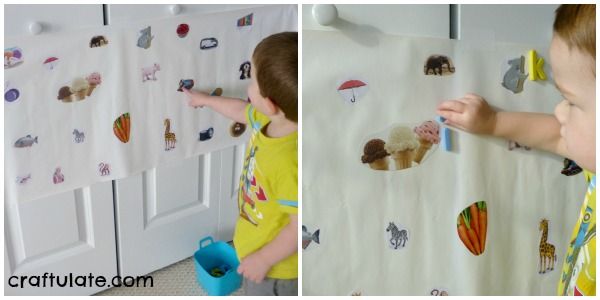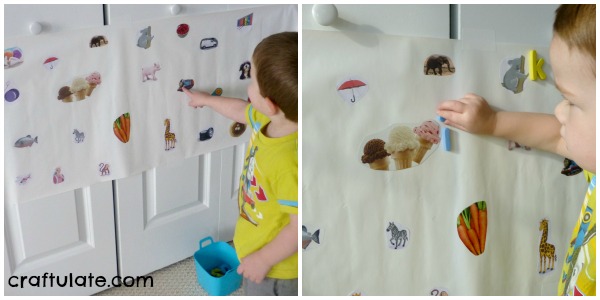 Oddly enough one he did on his own was "queen starts with q" – but then couldn't find the foam letter q because it didn't have the "tail" so it looked like a letter b (upside down) instead. Sheesh, who'd use cheap dollar store toys, eh? 🙂 On his first session he only did nine letter matches, and then got distracted. We went back to this activity the next day and he was very determined to finish it. He matched the rest of the letters, asking for help with only a few of them.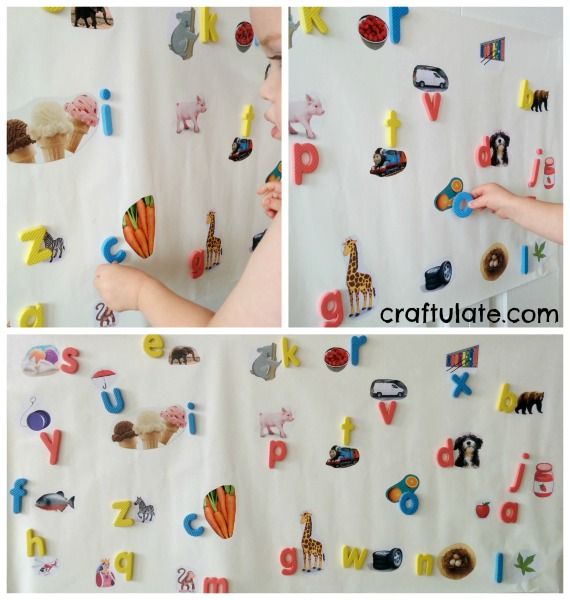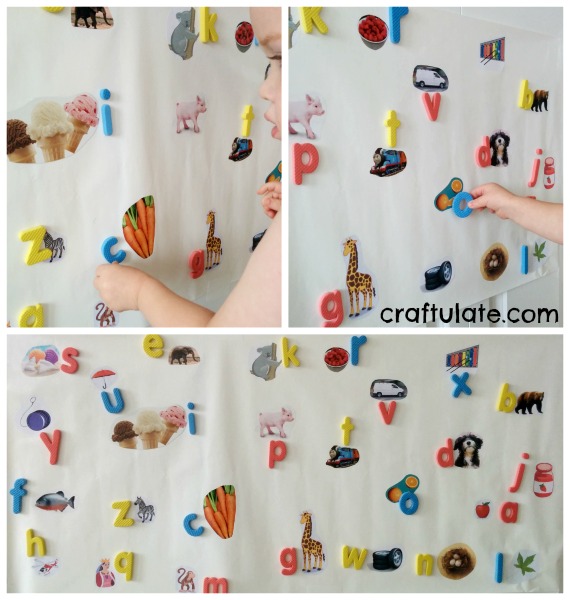 I had suspected he would also like the foam board that the letters came with, so we finished the activity with him neatly putting all the letters away!