Here's a colour mixing science activity that works on primary and secondary colours. Check out the video!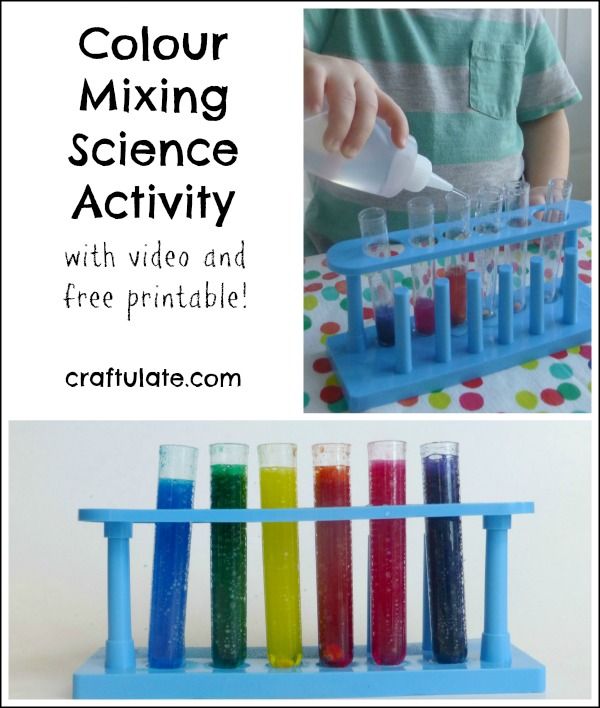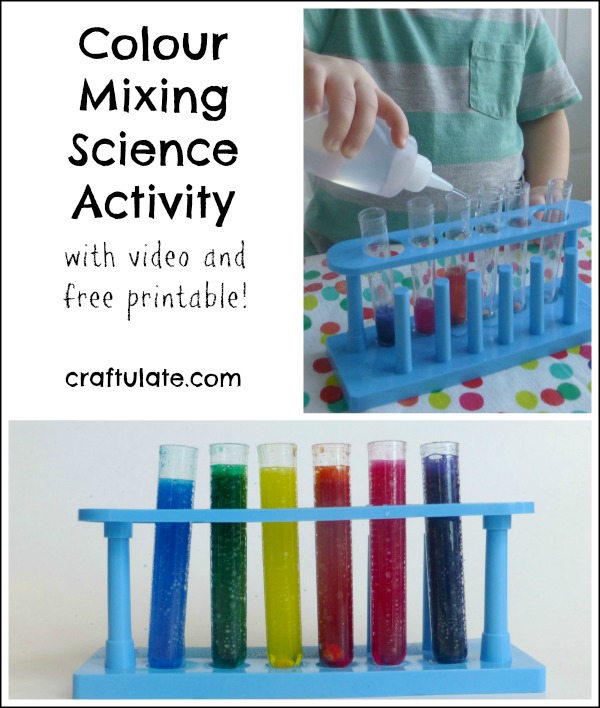 The following post contains affiliate links, which means that at no extra cost to you I can make a tiny bit of money to help support this blog. Thank you!
We love our fizzing experiments at the moment! I came up with this activity when my son was in the bath – he has some colour changing bath tablets that come in two sizes. He had decided that the smaller ones weren't good enough for his bath, so I thought I could use them for something else!
For this science activity we used:
Colour changing bath tablets – this product offers blue, yellow and red tablets
Water and vinegar
Worksheet (download it for free from the Craftulate!)
Coloured pencils or pens in primary colours
To prepare for the activity I mixed the water and vinegar in the squeeze bottle with about 50/50 ratio. You could just use water though – it would make the same colours but would be less fizzy!
I gave F a bowl of the bath tablets, the test tubes, the worksheet and some coloured pencils. We went over the worksheet first, filling in the boxes with the primary colours we would need to make the whole range of six primary and secondary colours.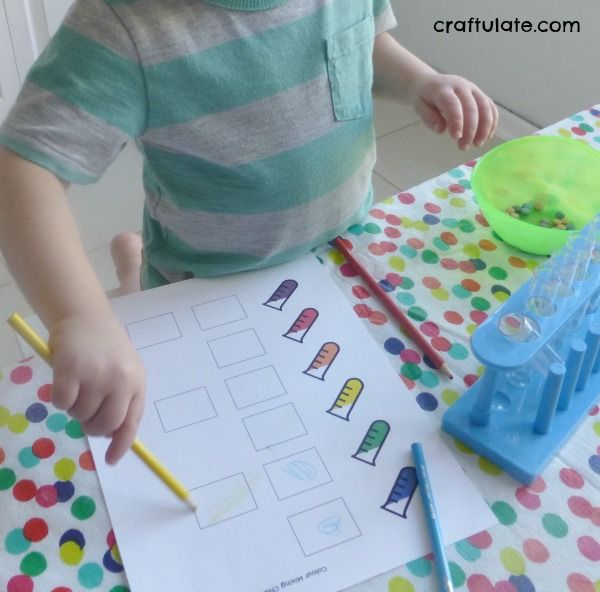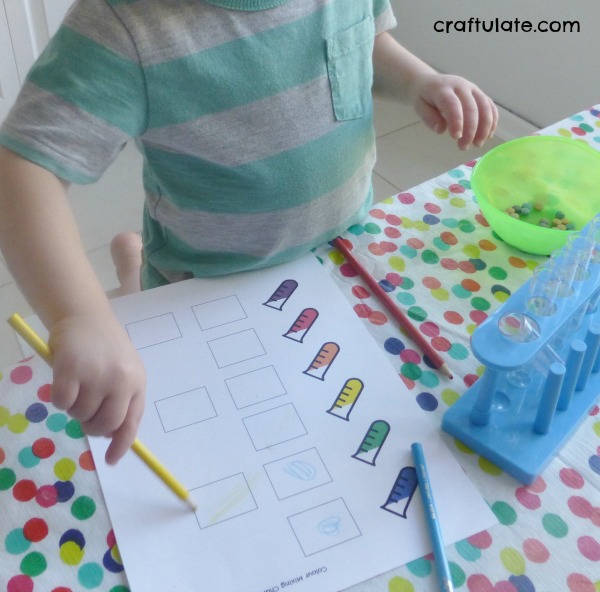 Then F placed the correct bath tablets into the tubes. I added an extra yellow tablet to the orange one so that it made a bigger contrast to the red tube. Note: The bath tablets may temporarily stain skin if fingers are wet, but it can be washed off with soap and water.
Finally it was time to get to the fizzing! F carefully added the liquid to each test tube, watching it bubble up.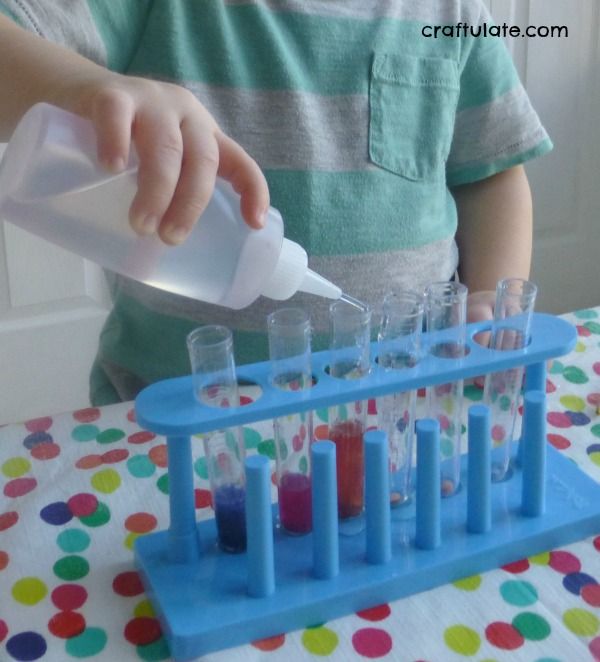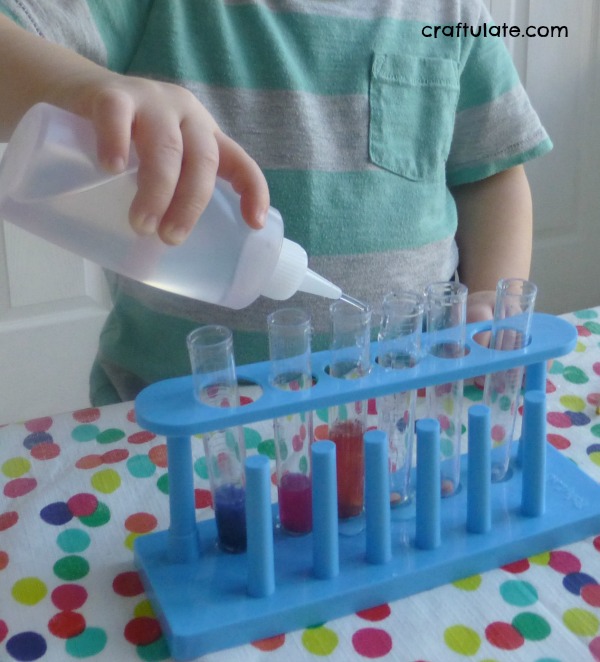 Once he'd added liquid to all the tubes he went back to fill them up, delighting when they fizzed over the top! The red tube looked annoyingly pinky-red, but overall they looked great!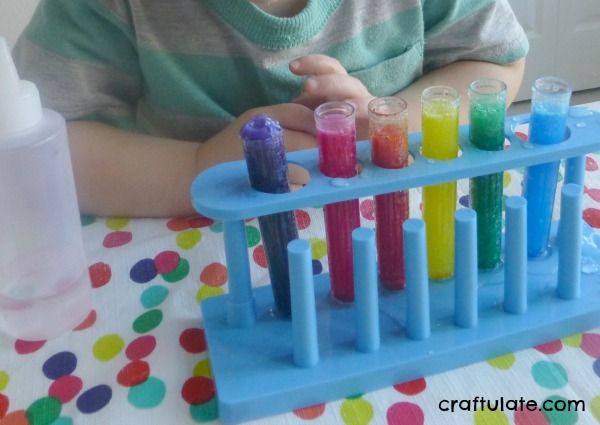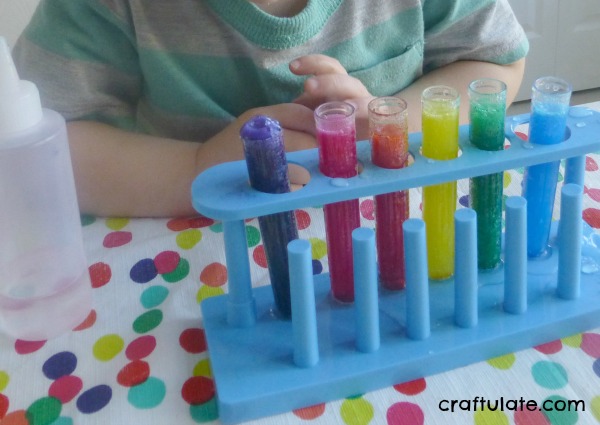 Then he asked to do it all over again – the best feedback I can ever get! This time I let him create his own colours by selecting whichever tablets he wanted. He wanted to put as much liquid in as possible too. Yes, the colours nearly all ended up as black – but that's part of the experimentation, right? 🙂
Watch a video of the fizzing colour mixing in action!
[bctt tweet="Colour Mixing Science Activity – with cool video and free printable!" username="craftulate"]