This shop has been compensated by Collective Bias, Inc. and its advertiser. All opinions are mine alone. #BakeInTheFun #CollectiveBias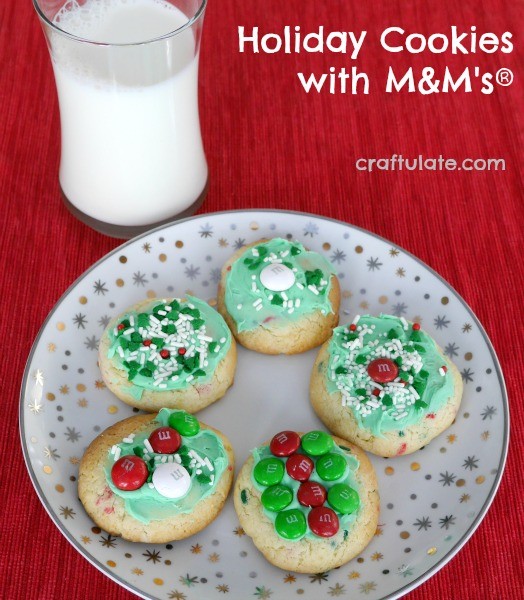 For the last four years we have made Christmas cookies as a family. OK so my son (who is now 4.5 yrs) didn't help too much at the start but he loves helping now! My mom is usually staying with us and my husband (who usually lets me handle all the cooking) joins in with the decorating too. I love our tradition!!
We usually use a sugar cookie dough but as soon as I saw the Pillsbury™ Funfetti® Holiday Cake Mix in Walmart recently, and saw that you can also use it for cookies – I knew it was time for a change. The idea formed and I also picked up some Pillsbury™ Funfetti® Holiday Vanilla Flavored Frosting which comes with pretty sprinkles! To decorate the cookies I chose some  M&M's® White Peppermint (in candy cane colours!) and M&M's® Holiday Milk Chocolate (in fun red and green!). Did you know that you can get a COUPON for $1.00 off ANY TWO (2) M&M's® Chocolate Candies, 8 oz or larger? Oh and I also bought a gallon of Great Value Milk – because you've got to have milk with cookies!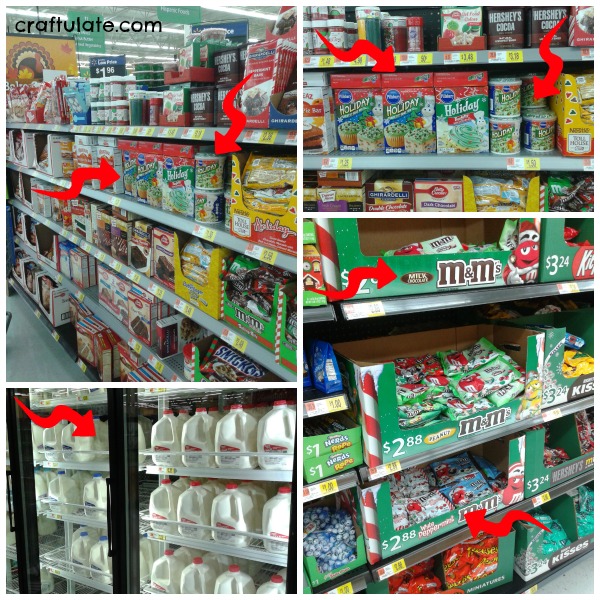 My son loves helping me in  the kitchen, so we mixed up the cookie dough together.
(By the way, do you want to enter a sweepstake to win a KitchenAid® mixer? Vote on your favourite photo from my fellow influencers who are competing to win a kitchen makeover. By voting on your favorite photo, you are entered in a draw to win one of eight KitchenAid® mixers!)
Holiday #BakeInTheFun
While we were making the cookie dough my son had a glass of Great Value Milk. Did you know that some children and families in your community are missing out on the essential nutrients supplied by milk because it's not typically donated to food banks – even though it's in high demand? And when you consider that one in every six children in America rely on Feeding America food banks each year – that's a lot of children who need milk! So for a small donation at pourmilklove.com the Great American Milk Drive will deliver a gallon of milk – and all of the essential nutrients, including protein, that it provides – to a family in need in YOUR local community. AND if you purchase 2 bags of M&M's® at Walmart (9.4 oz bags or larger), up to a gallon of milk will be donated to the drive! These small contributions and donations can make a BIG impact.
We made the cookie dough into balls then flattened them with the back of the mixing spoon. The box suggested it would make three dozen cookies but we only managed to make two dozen – I guess we made them quite large!!
Once the cookies had baked, I transferred them to a cooling rack. Then it was time to use the Pillsbury™ Funfetti® Holiday Vanilla Flavored Frosting! My son and I worked on this together, creating lots of lovely family memories as we worked!
I started adding the decorations – the M&M's® White Peppermint gave the cookies a wonderful classic candy cane taste and look, and the M&M's® Holiday Milk Chocolate gave a great pop of colour! And of course we had the sprinkles from the frosting, too!
My husband needed no persuading to come out from behind the camera and we finished decorating the first dozen cookies. When the second batch were cool enough we got started on those, too!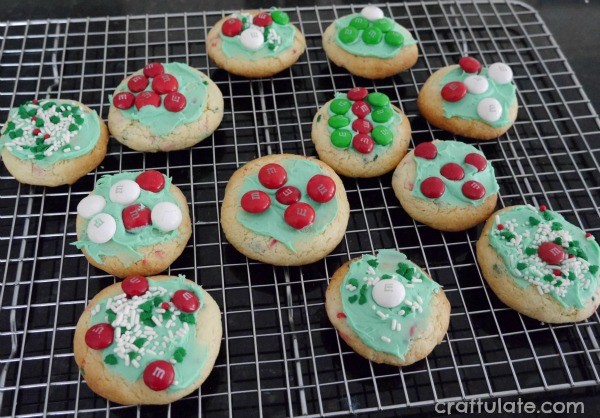 Here are some of our favourite ones (the plate is also from Walmart!). They're not professional or trendy, but they are perfect to us.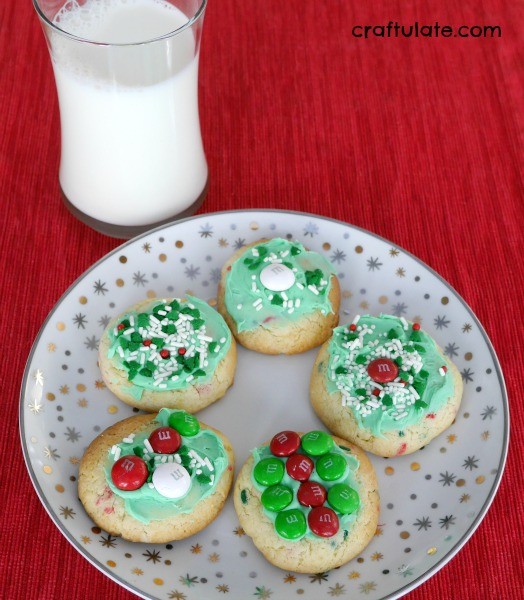 Get more fun holiday recipe ideas from My Confection Corner!