We actually played with this train shape matching puzzle several months ago but I've only just got round to sharing it! There are several different ways to play with it, AND I'm offering a free printable – continue reading for details!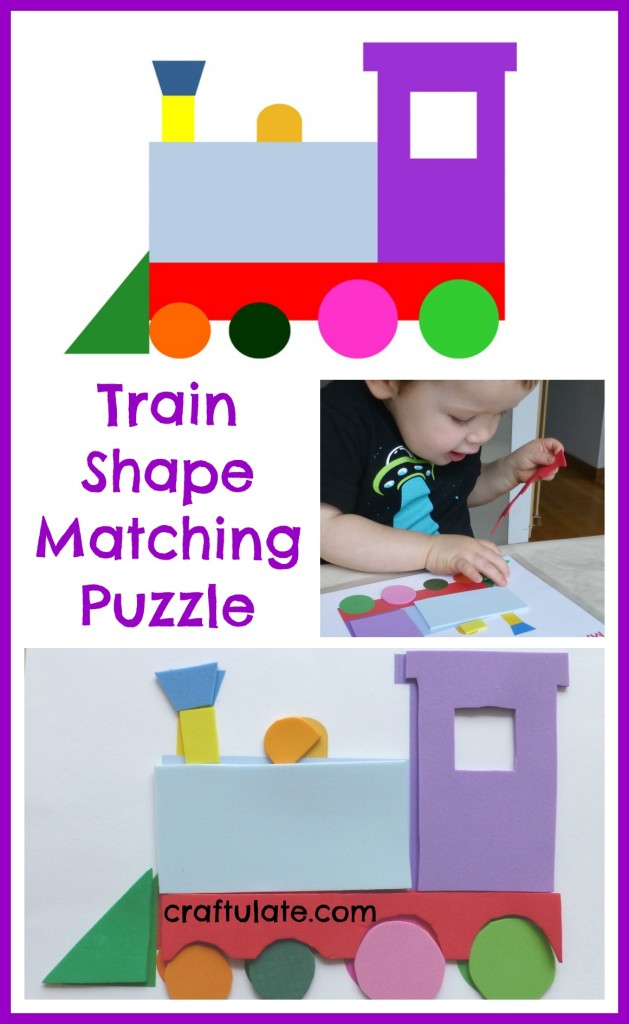 I drew a train using bold shapes and colours. I printed it out in draft format and cut some corresponding colours of craft foam to match.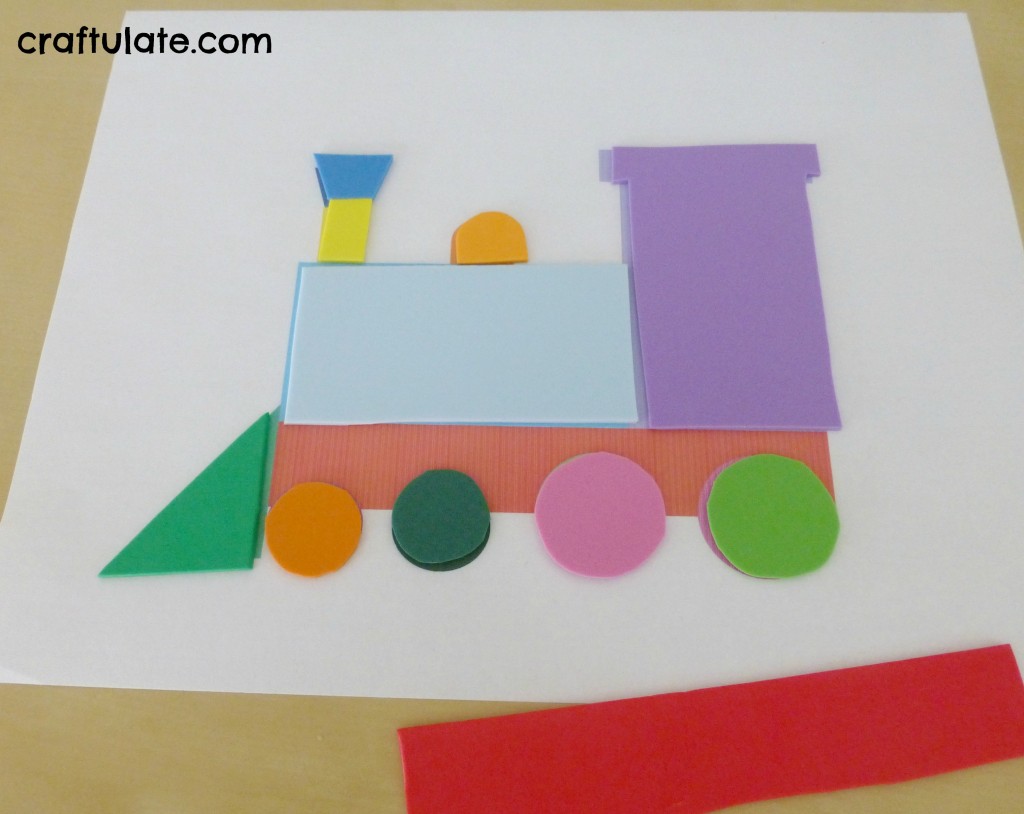 For the trickier pieces (purple and red) I cut out the paper shapes and used them as a template on the craft foam. Then I printed out the train again onto card, and covered it in Contact paper both sides (a laminator would work even better here!).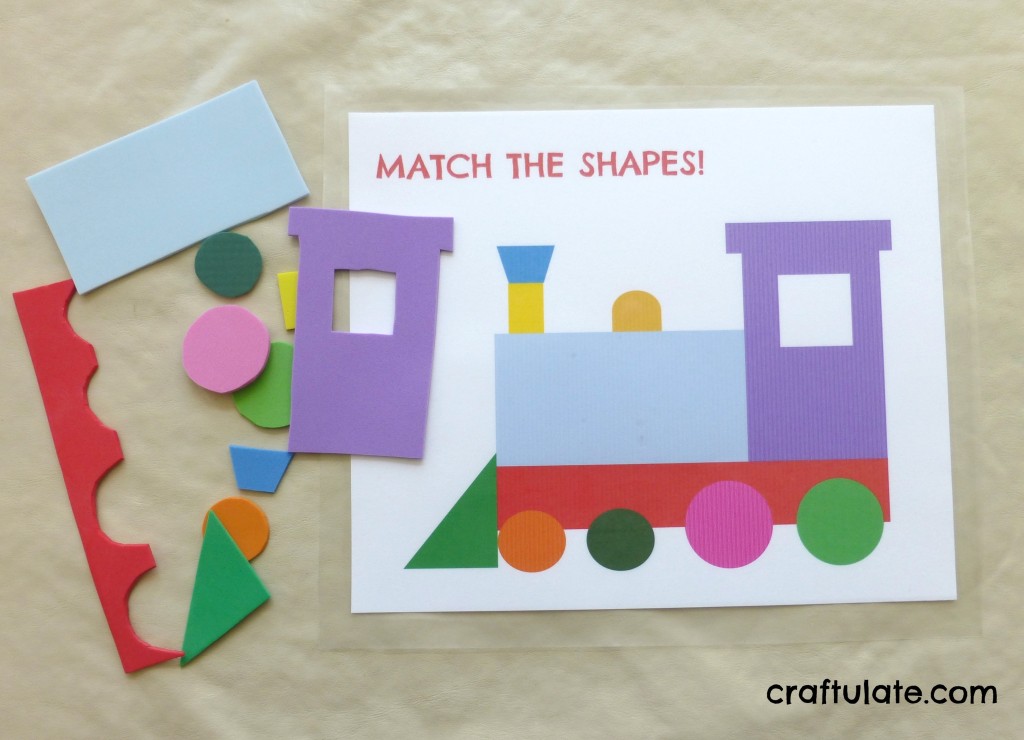 The first time I gave the puzzle to F he didn't wait for instructions; he just started placing the craft foam pieces over the template. It took him a while to figure out which way round the green triangle went. He also got a couple of the small and big wheels mixed up, and struggled with the positioning of the red piece because of this. Once I had helped him with that, he pretty much finished the rest by himself.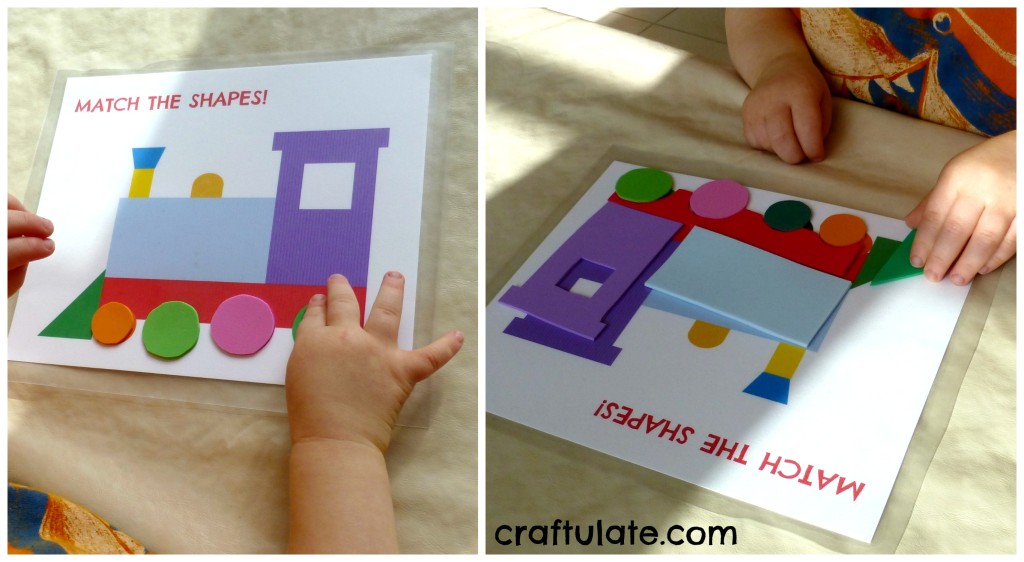 The pieces did slide around a bit on the template – which was a good AND bad thing! The second time he tried it he got every piece right first time – all apart from that tricky red piece! We had lots of opportunities to name the colours and shapes of the pieces. He was so pleased with himself when he had completed the puzzle!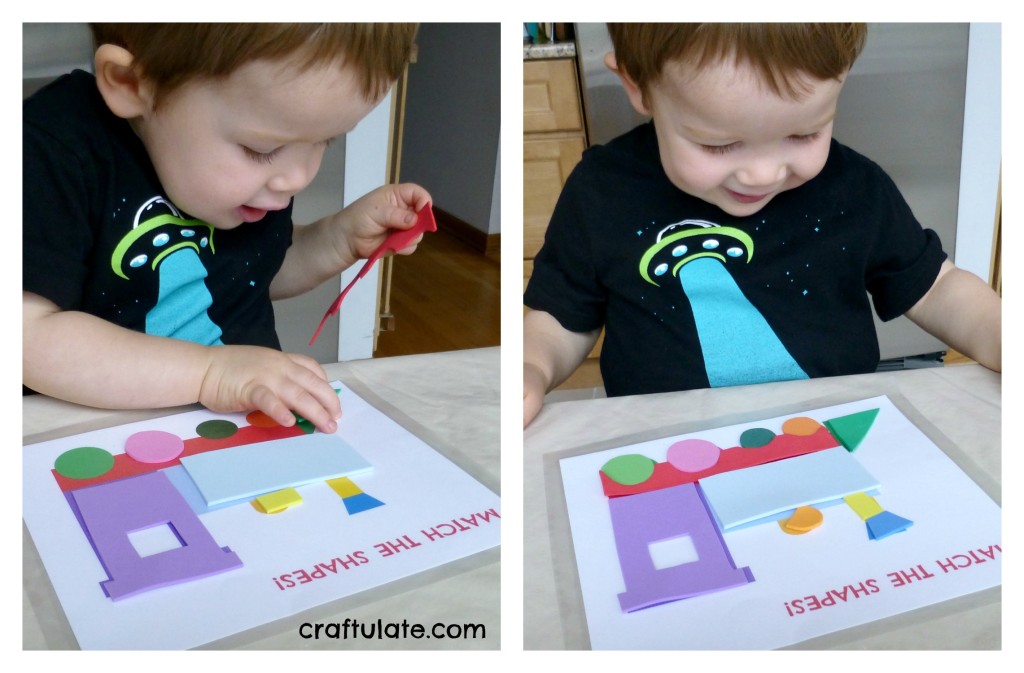 Next we tried the puzzle in the bath – without the template. I placed the main three pieces for him and left him to do the rest. He did fairly well… with only a few mistakes!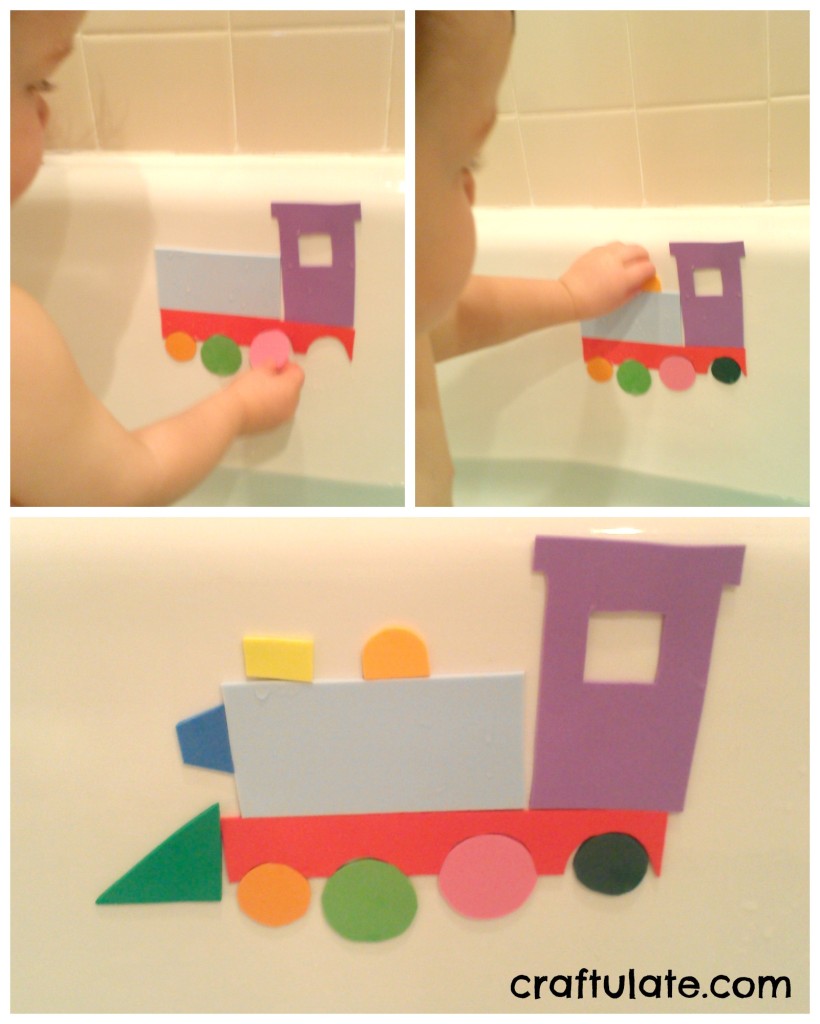 The final way I adapted this puzzle was to add some magnetic tape strips to each of the craft foam pieces. These tape strips were sent to me by craftprojectideas.com and are super easy to use – just cut to size then peel and stick!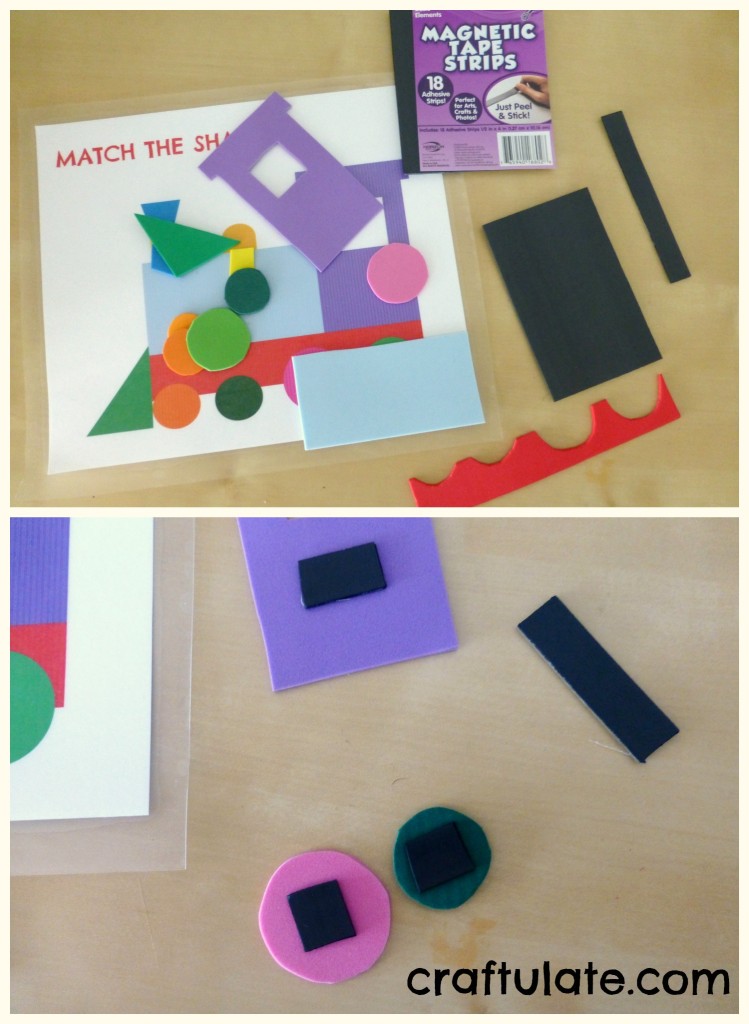 It was a few days later when F saw the puzzle in its new format – and he greeted it like an old friend!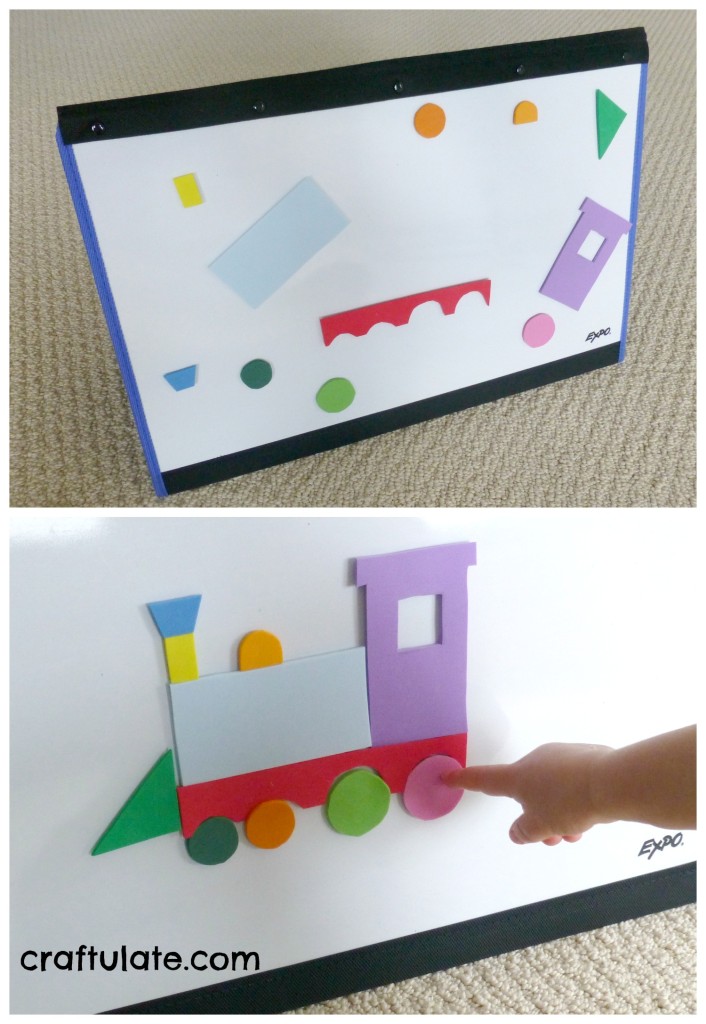 Here are some ways that we played with this puzzle:
Place the pieces directly onto the template
Copy the train by placing the pieces below the template
Use the covered template as a placemat!
Play with the craft foam pieces on the side of the bath
Add magnetic strips to the back of the craft foam pieces and construct the train on a fridge or magnetic board
And here are some variations that we haven't tried yet:
Add Velcro dots to the back of the shapes so that they stick to the train template
Put all the pieces in a resealable bag and attach it to the corner of the template – this keeps the puzzle pieces together!
If you'd like a FREE PRINTABLE of this shape matching puzzle, please head over to the Craftulate Shop!