Do your kids need to practice their fine motor scissor skills? You'll love this collection of over 45 ideas and projects!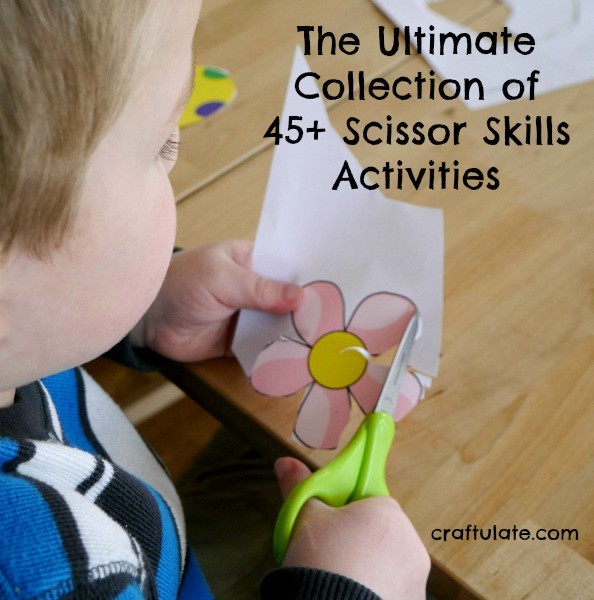 Before I get started with this amazing collection of scissor skills activities, I am just BURSTING to tell you that our new book has been published today! After the successful launch of 99 Fine Motor Ideas – the Fine Motor Fridays team have released another fantastic book: 100 Fine Motor Ideas for Parents, Teachers & Therapists. It is crammed full of all kinds of new activities that work on a wide range of fine motor skills. It is available in paperback, Kindle and ebook formats. Oh – and there's a special offer on the ebook for $2 off until March 7 2016! Click the book picture below for more details and how to buy!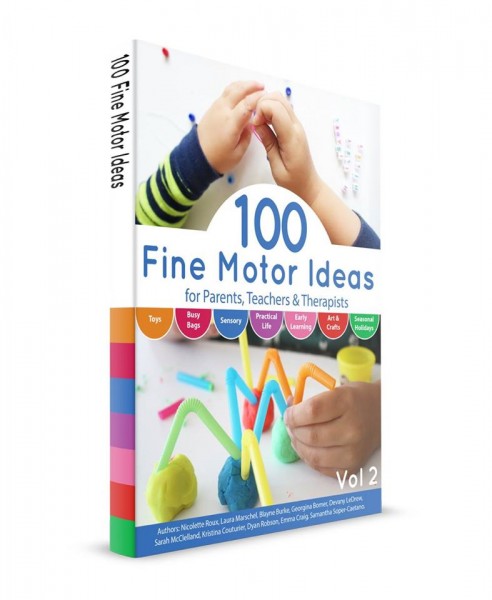 So after that exciting announcement – here's the list you've been waiting for!
Scissor Skills Art & Crafts
Scissor Practice Flowers from Craftulate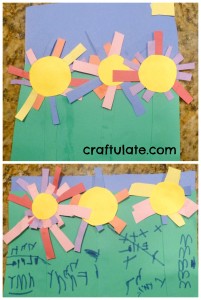 Cardboard Tube Haircuts from Lalymom
Birthday Themed Cutting Practice from Lalymom
Cutting Practice Spider from Lalymom
Watermelon Scissor Skills Craft from FSPDT
Dot and Cut from Powerful Mothering
Cut and Color Flower Shapes from Therapy Fun Zone
Rainbow Spaghetti Wall from Mosswood Connections
Create a Cardboard City Cutting Activity from Learn with Play at Home
Spring Tree Craft from Hands On As We Grow
Flower Scissor Skills from Sugar Aunts
Scissor Skills Snakes from Crafts on Sea
Truffula Trees Cutting Activity from Still Playing School
Back to School Themed Cutting Practice Worksheets from The Chirping Moms
Scissor Skills Activities
Train Themed Cutting Practice from Craftulate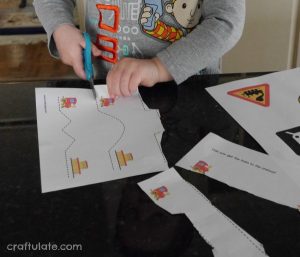 Cutting Straws and Play Dough from Mom Inspired Life
Scissor Skills Play from Little Bins for Little Hands
Cutting Practice Games with Gift Wrap from Powerful Mothering
Cutting Straws Busy Box from Little Bins for Little Hands
Learning with Stickers (and their scraps) from My Mundane and Miraculous Life
Learning Scissor Skills with Jelly from The Nurture Store
Cutting Practice and Learning Shapes from Learn with Play at Home
Scissor Skills Lunch from Left Brain Craft Brain
Kid-Made Puzzles with Scissor Skills from Inspiration Laboratories
Scissor Skills Hints and Tips
Learning to Use Scissors from Craftulate
Play Dough Skills from Craftulate
Tips for Teaching Scissor Cutting Skills from Pre-K Pages
Ultimate Guide to Cutting Activities from Lalymom
Encourage Cutting Practice with Silly Scissors from Stir The Wonder
13 Ways to Teach Kids How To Use Scissors from The Inspired Treehouse
Sharpening Scissor Skills from Playground Parkbench
Introducing Scissors to Toddlers from House of Burke
Seasonal Scissor Skills Fun
Tissue Paper Snowflake Art from Craftulate
Snowman Scissor Skills Activity from School Time Snippets
Snowflake Garland from Hands On As We Grow
Free Cutting Practice Pack for Valentine's Day from This Reading Mama
Broken Hearts: Valentine's Cutting Practice from School Time Snippets
Scissor Skills – Easter Egg and Cross from FSPDT
4th of July Cutting Practice Sheets from Itsy Bitsy Fun
Easy Pumpkin Craft for Scissor Skills from Nurture Store
5 Halloween Cutting Practice Activities from Lalymom
Halloween Themed Cutting Tray from And Next Comes L
Christmas Scissor Skills from Pre-K Pages
3 Fun Christmas Cutting Practice Activities from Lalymom
Kid-Made Christmas Gift Tags from Mom Inspired Life
Ultimate Collection of 45+ Scissor Skills Activities #finemotor #scissorskills
Click To Tweet
To celebrate the launch of the new book, here are some more amazing fine motor skills collections for you: