This slow cooker play dough is so easy to make even young kids can get involved in making it.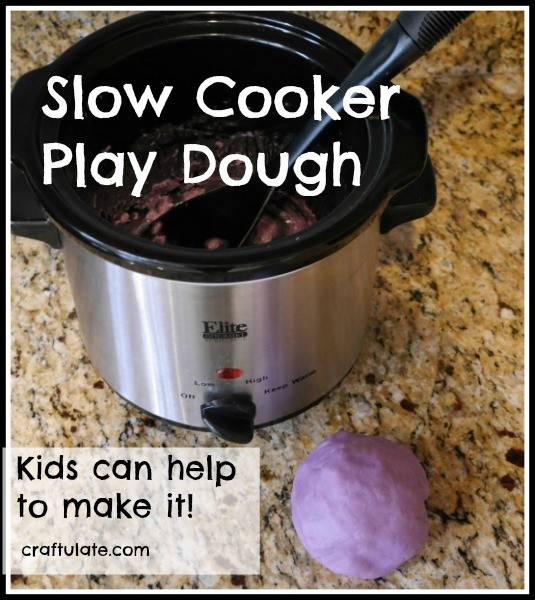 The following post contains affiliate links, which means that at no extra cost to you I can make a tiny bit of money to help support this blog. Thank you!
When I first realised that I could make play dough in my slow cooker – I just had to try it! I make a *lot* of play dough and have made many variations of my basic recipe (which you should check out – if only to watch the fun video tutorial). But that version is made by me, in a saucepan, on the hob/stovetop. But if play dough could be made in the slow cooker, then my SON could make it. With a bit of supervision, of course. He's not yet four years old! 😉 I have a small 3-quart slow cooker which is just perfect for a family of three – and for making play dough, so it transpires!
I tweaked the original recipe a bit so here are the ingredients we used:
½ cup plain flour
¼ cup cornstarch
¼ cup salt
2 tablespoons cream of tartar
¾ cup warm water
1 tablespoon oil
food dye – we used about 6-8 drops of neon purple
F added all the dry ingredients to the slow cooker bowl. He loves making his own concoctions with flour and water so he had to be patient here and understand why we had to use precise measurements of the ingredients.
He decided we should make purple play dough, so I mixed together the water, food dye and oil in a measuring jug and F carefully poured it in.
Then he gave everything a very good stir! We had to make sure all the flour was well mixed in. Then I put the bowl into the slow cooker and turned it on to a low heat, and set the time for 30 minutes. When the timer went off we rushed to have a look. Ta-da!
(And yes, he knew not to touch the edge of the slow cooker bowl as it would be hot)
I scraped around the bowl to form the dough into one clump.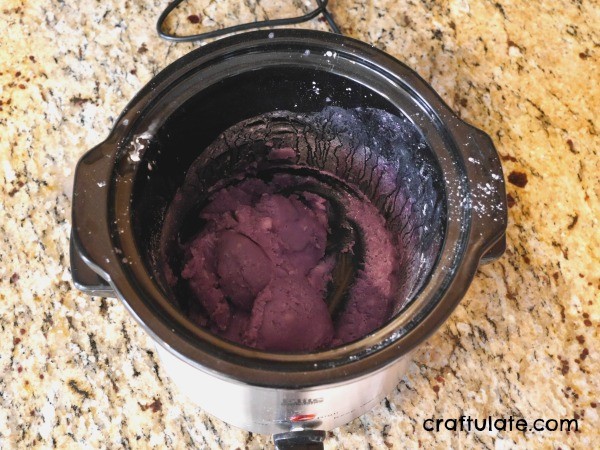 Then I turned it out onto some wax paper and let it cool a little. Then I kneaded it for a while until it was smooth.
When it was properly cool we were ready to play!
Pros and cons of slow cooker play dough:
Unless you mix in the food dye afterwards, you can only make one colour at a time
You have to wait 30 minutes to make each batch (stovetop takes more like 5 minutes)
BUT, your child can really be involved in making it – safely!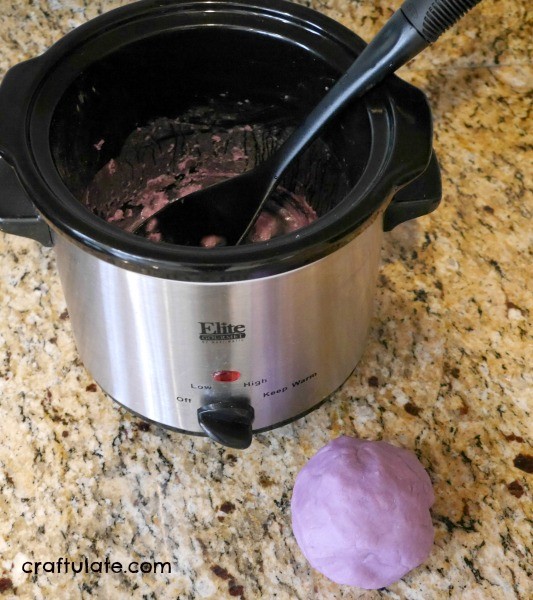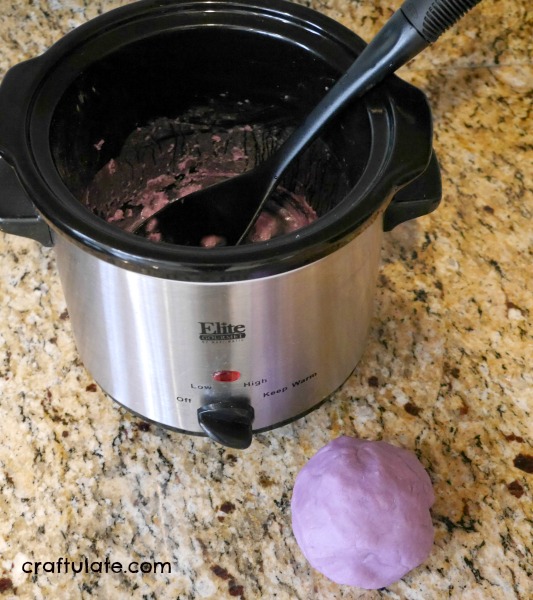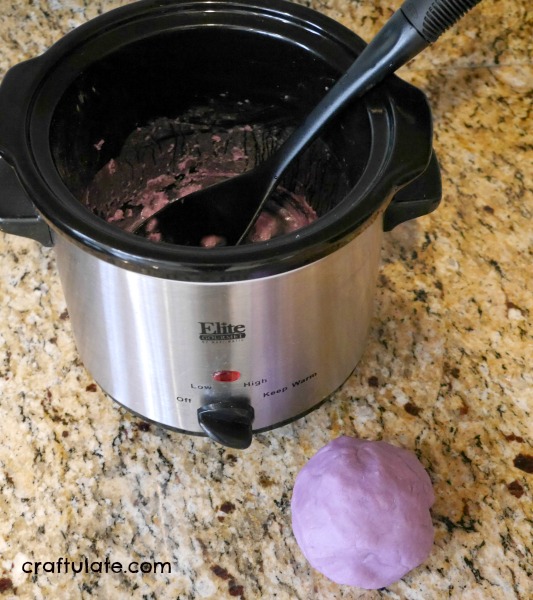 Ingredients
½ cup plain flour
¼ cup cornstarch
¼ cup salt
2 tablespoons cream of tartar
¾ cup warm water
1 tablespoon oil
food dye
Instructions
Add all the dry ingredients to a small slow cooker and stir well.
Add all the remaining ingredients and mix again.
Cook on low heat for 30 minutes.
Place the dough on wax paper, let cool, then knead until smooth.
http://craftulate.com/slow-cooker-play-dough/
This recipe is copyright of craftulate.com, do not reprint or republish without permission.
Inspired by Crockpot365