Following a visit to our nearby city farm, I set up this farm small world when we got home. What a farm-tastic day!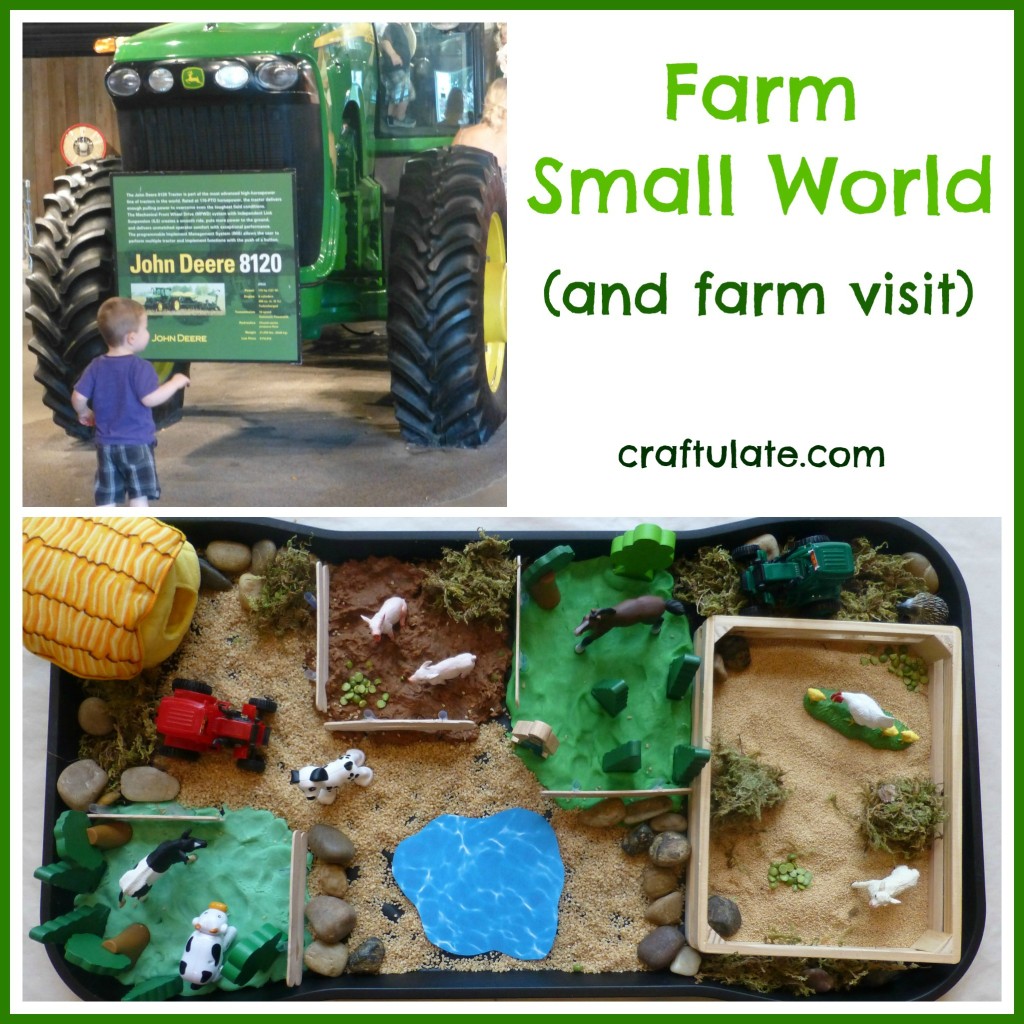 The following post contains affiliate links, which means that at no extra cost to you I can make a tiny bit of money to help support this blog. Thank you!
Farm Visit
In the morning we visited our little city farm. The first thing we saw was a tractor – they're BIG!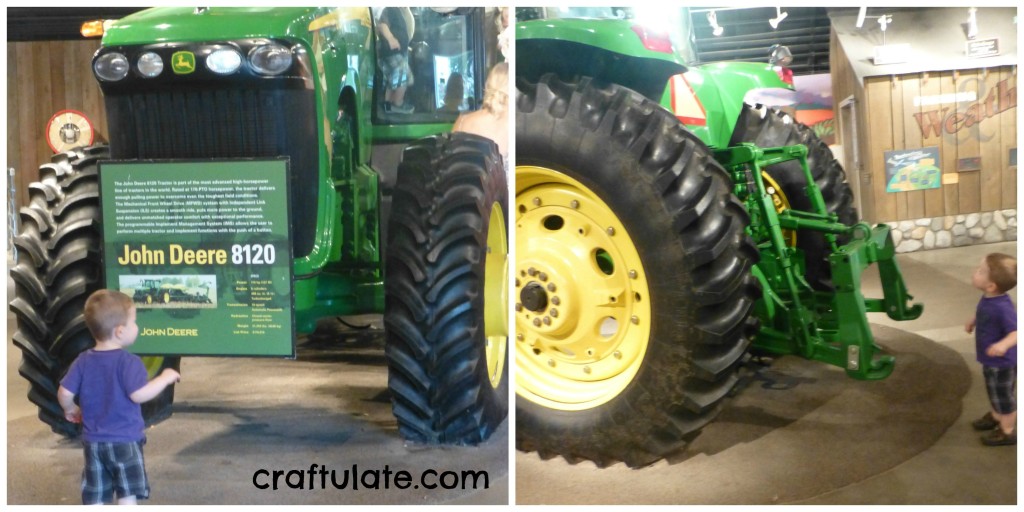 We also saw chicks, ponies, cows, pigs, and goats – and F got to climb over some tractor tyres!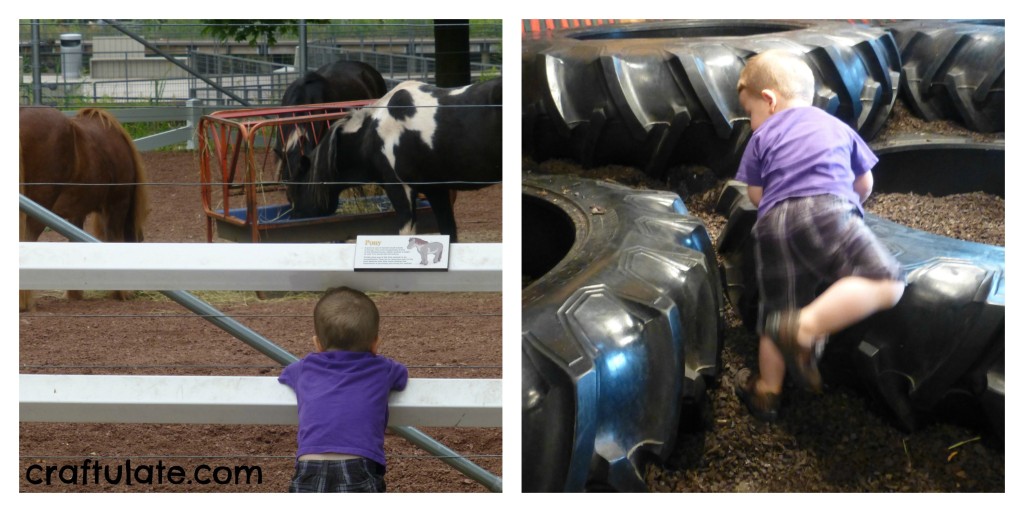 Farm Small World Play
While F was napping I set this up for him – and I had such fun doing it!
Animal Habitats
Play dough mud with pigs – this was a crazy kitchen concoction of ingredients including coffee grounds, cocoa powder, split peas and oatmeal.
Green play dough fields for the horse and cows
Chickens and lamb in a wooden enclosure scattered with amaranth (well what else was I going to use amaranth for?!!?)
The above play doughs were based on my basic homemade play dough recipe.
Decorations
Small rocks (from our Turtle Water Table)
Wooden trees (from our train set)
Felt house (from our Three Little Pigs set)
Fences (made from straws and craft sticks)
Pond (patterned paper, with bulghur wheat scattered around)
Toy tractors
Split peas
Toy dog
Toy farmer (in his mechanic's uniform, ahem)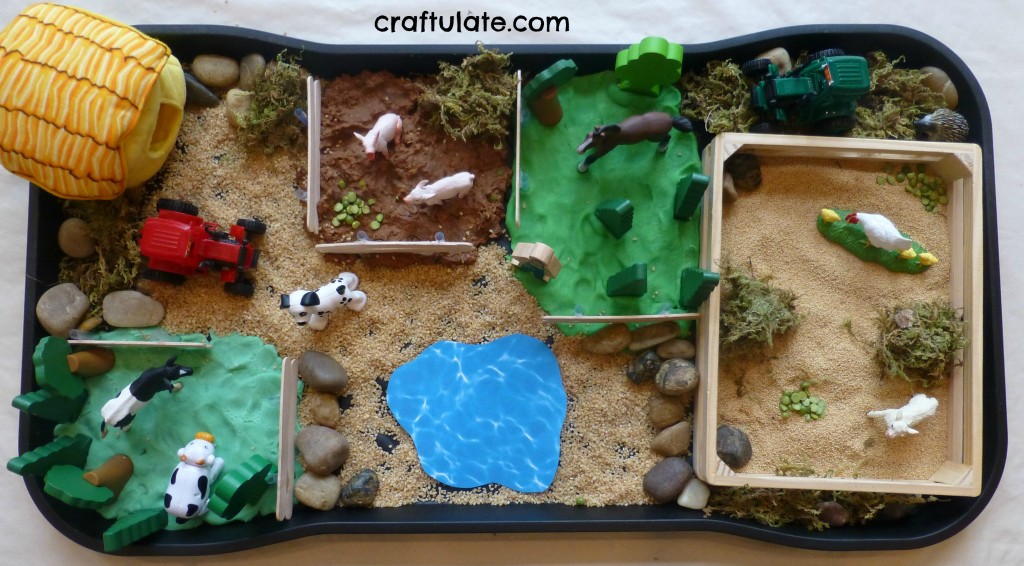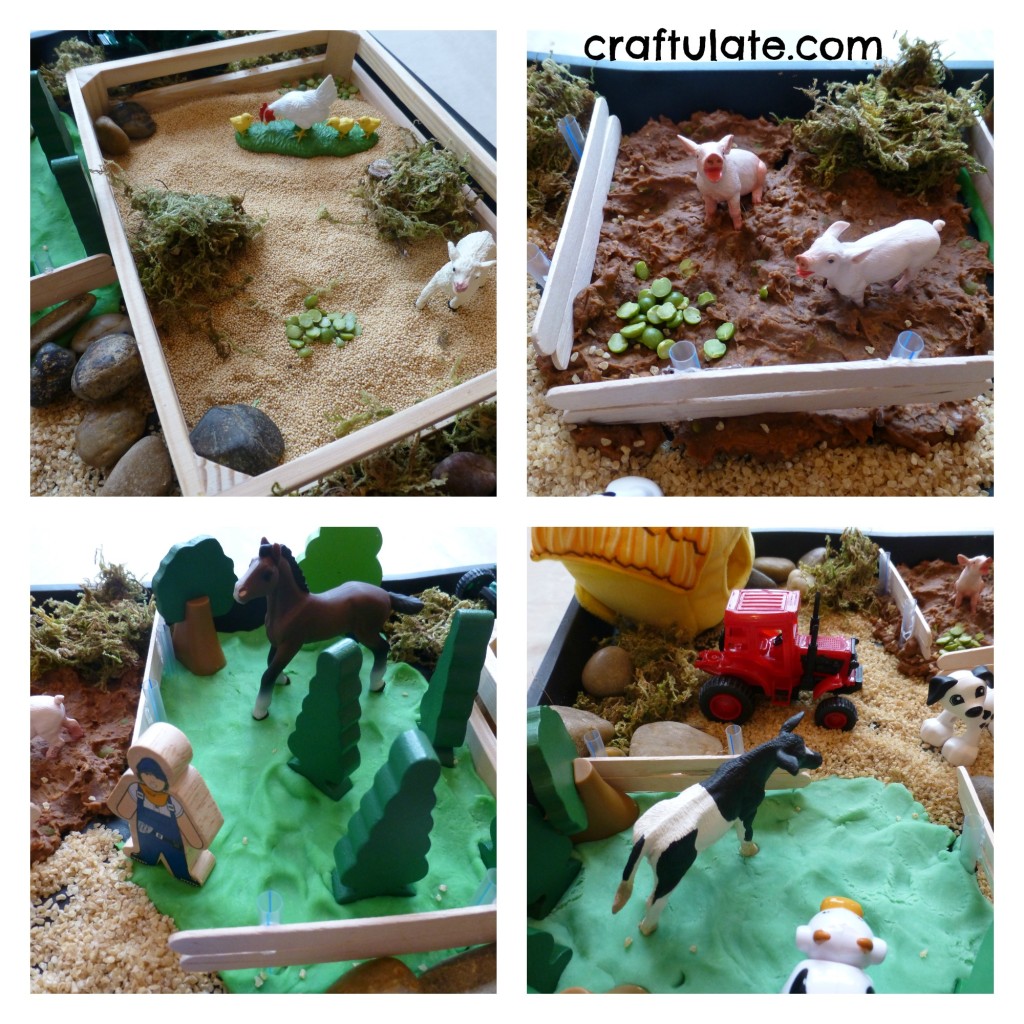 I thought that things might get messy, so I laid the tray on a shower curtain on the kitchen floor. In the end, he hardly made any mess at all!
F greeted the small world with a "wow" – which was appreciated!
We looked at all the different areas and soon F started giving the animals something to eat.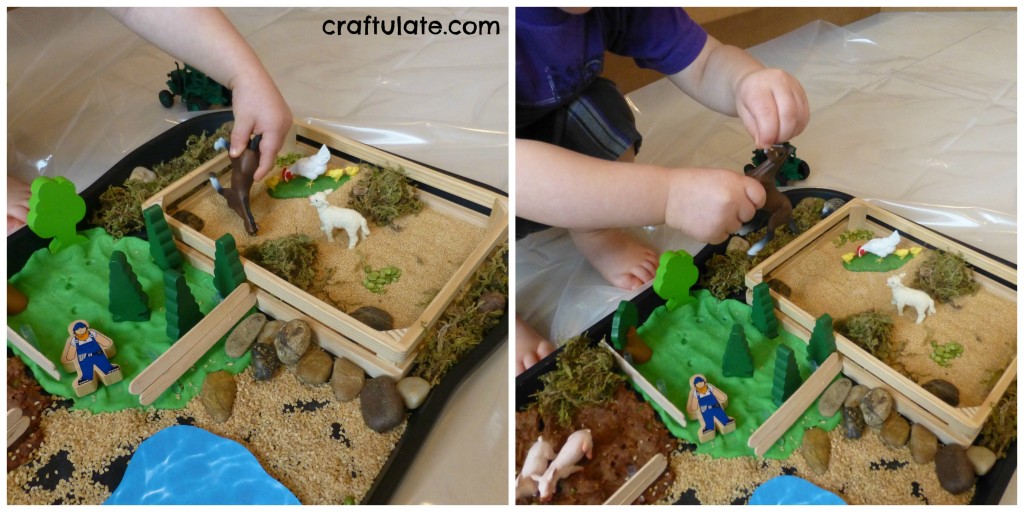 Then they had something to drink.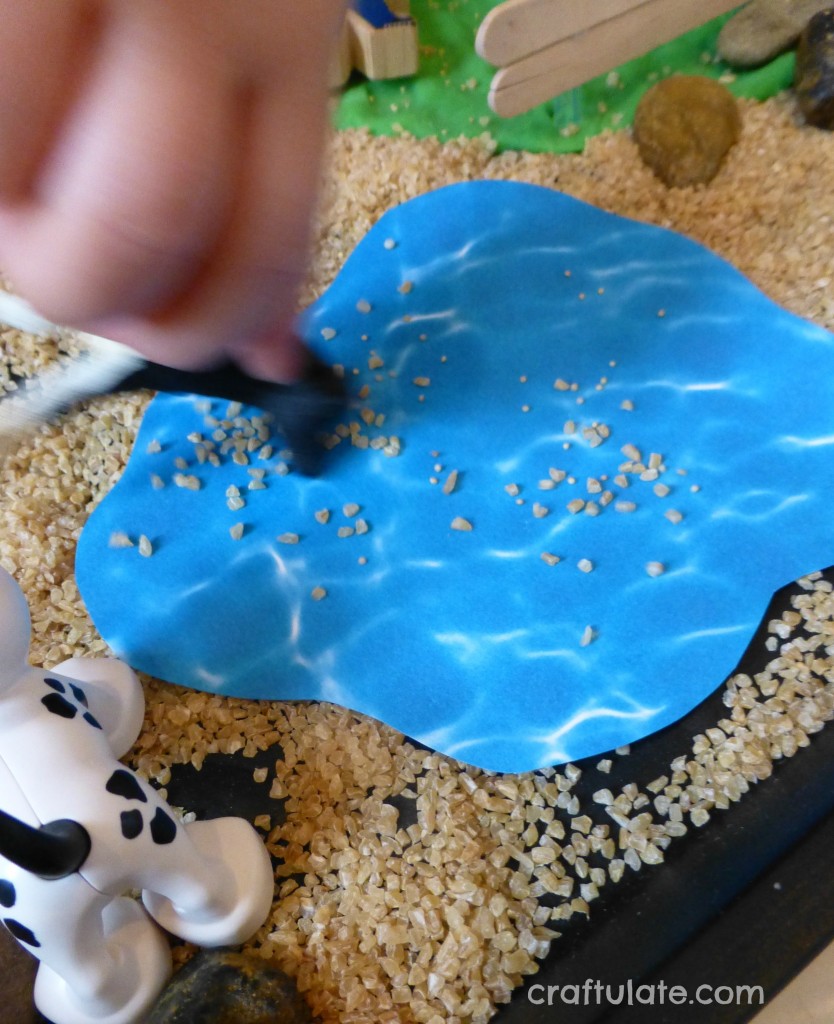 And a little nap.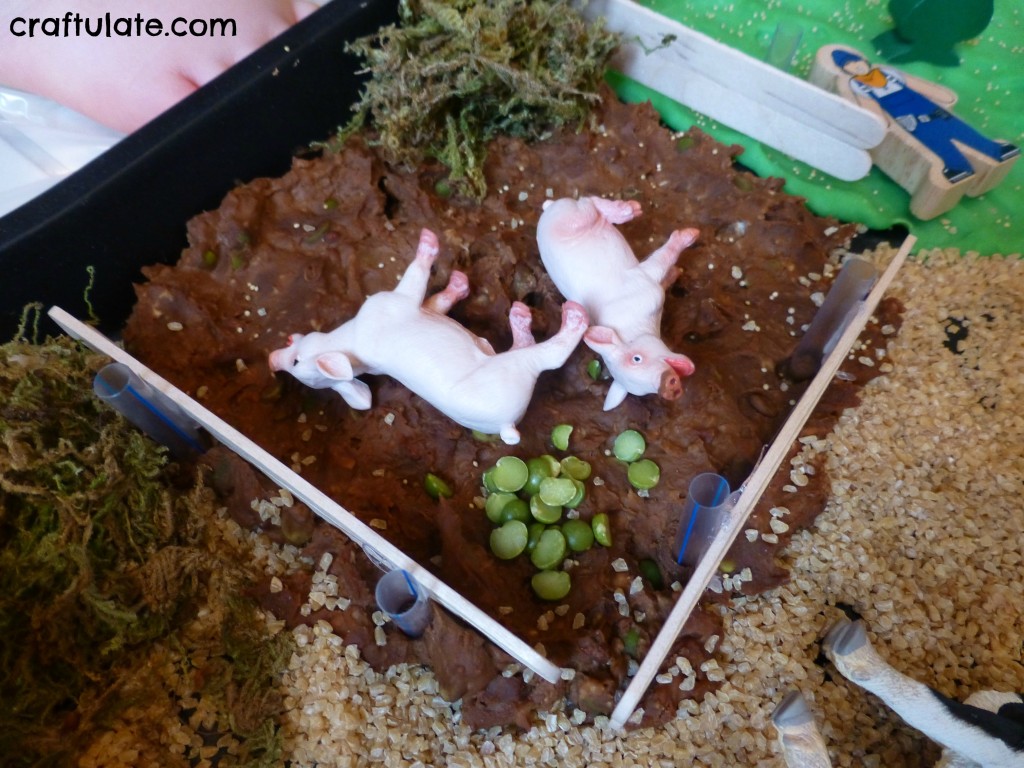 Just when I was thinking that I really should have got some ducks or geese for the pond, F requested "more water", so I provided a tin with some real water so that the animals could have a bath.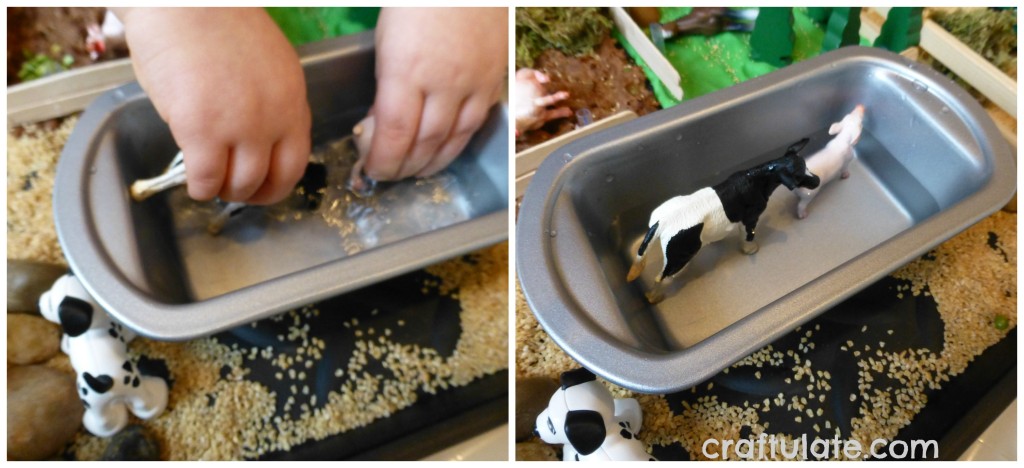 He also neatly lined up the tractors… then gave them something to eat.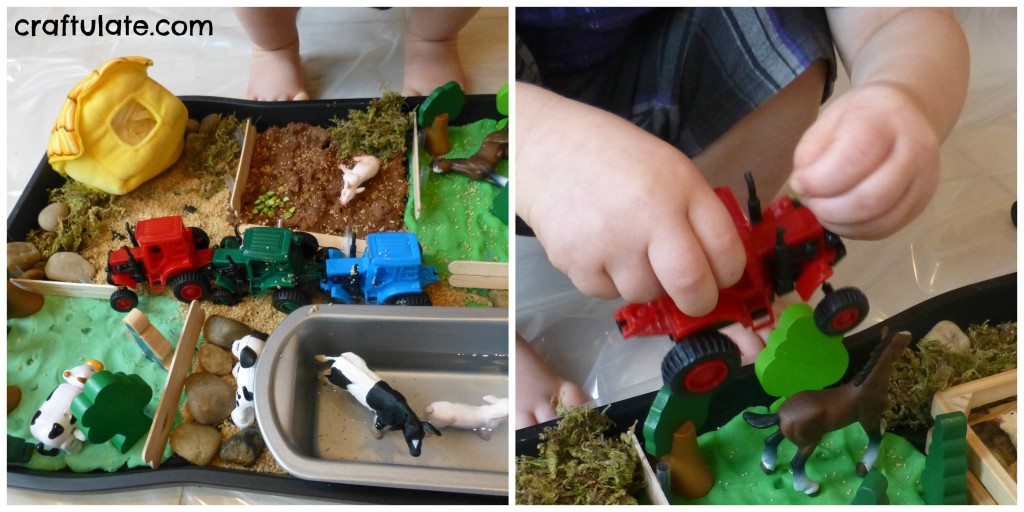 Farm Animal Book and Stickers
On the same day I also gave F some 3D farm stickers. They're more expensive than flat ones but are SO easy for little hands to peel off the backing paper. We do so many activities where I'm directing and suggesting ("That's a wheel? Where does the wheel go?" etc) that I thought I'd let him go freestyle. Look how wild and crazy he went! 😉

We also looked at Noisy Barn (Priddy Books) that makes rooster, pig, cow and horse sounds. Some furry friends read with us!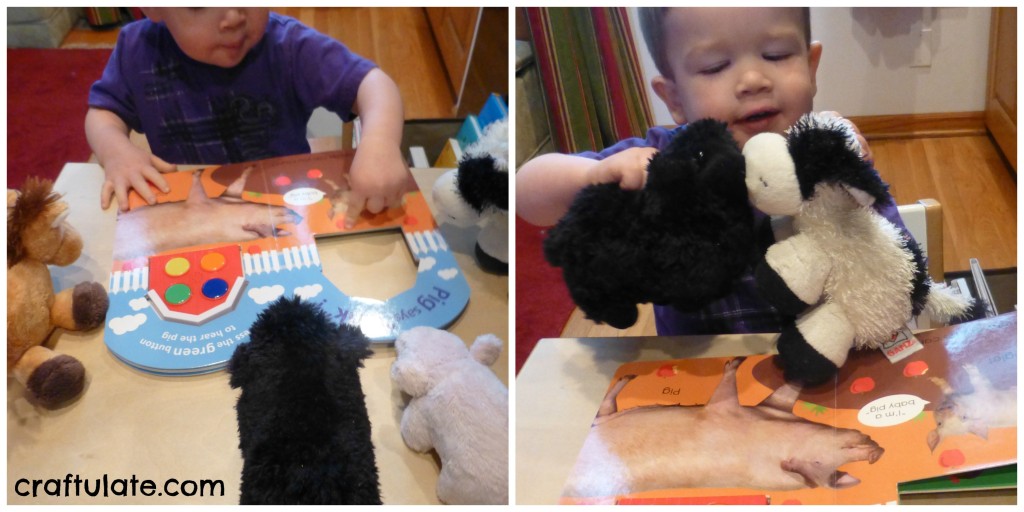 Cows and sheep kiss. Fact.