It is well known that we like our trains here in the Craftulate house – and I really think that this is the best value train table available.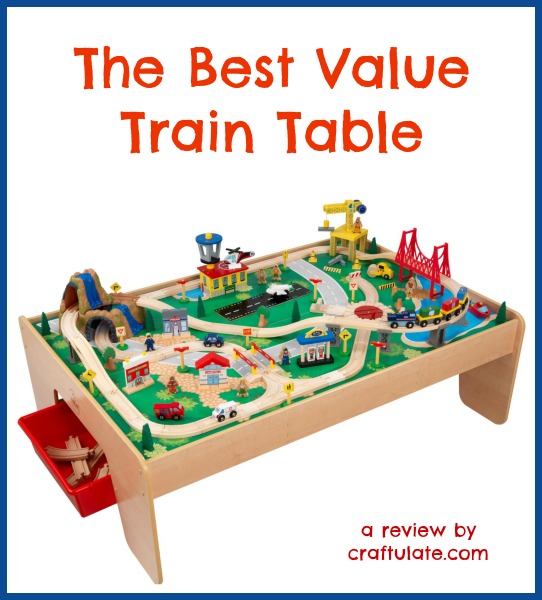 The following post contains affiliate links, which means that at no extra cost to you I can make a tiny bit of money to help support this blog. Thank you!
The train table we have is this one from KidKraft: Waterfall Mountain Train Set and Table.

For a start, let's take a look at what is included – because this is 120 piece set!
The table.

Well yes,  you expected this.

Three storage bins.

They can slide onto a rail under the table but in truth we keep ours on the floor, pushed underneath the table for easier access.

Train track.

Enough to make a decent track layout, including a turntable, railroad crossing, risers and some supports

Trains and vehicles

. There are trains (some have cargo that connect to the crane mentioned above), vehicles like fire truck and ambulance, helicopter, boat, plane, and more

Large accessories.

The large waterfall piece allows for track over and under. There is also a bridge, crane and helipad.

Small accessories.

Included are road signs, trees, cardboard runway, wooden people, gas station and wooden panels to represent a fire station, hospital etc.
So that's a LOT, right? What about the quality? Well, it's a mixture of wood and plastic. My least favourite part is actually the waterfall which is entirely plastic, and makes an unpleasant noise when scraped across a floor or table. That's the only major part we don't use any more. Everything else has lasted very well, and we've had this set for nearly two years. I think I replaced the cable on the crane to make it longer, but that's all.
The table itself is very sturdy, with rounded edges, and it supports my 3.5 year old on the occasions that he climbs onto it when my back is turned! The playboard is printed with a road, two lakes and some trees but I find that we don't incorporate these much into our layouts. Over time it has been scratched a little, but this hasn't worried us.
Here at Craftulate, as well as daily play with trains, we have incorporated the train table and/or it's components into some of our activities:
Alphabet Train – this was a great way for my son to learn his alphabet by collecting letters from around the track in the correct order
Unwrapping Activity – my son got some great fine motor practice by learning to unwrap train-themed items
What's Missing Game – we used engines from the Thomas series but this could be played with any of the accessories from this set
I'd also like to take this opportunity to give a quick shout out to my friend Jessica over at the blog Play Trains who has published her first book! "Old Track New Tricks" is a super cute story about wooden tracks that do tricks to show kids what they can do! A wonderful story and lots of great activity ideas, too.