We had a great opportunity to try out this new idea  from Baker's Passport: learn a language while you bake!
This is a sponsored post written by me on behalf of Baker's Passport. Please see my disclosure policy.
2016 update: Sadly it looks like Bakers Passport is no longer running.
Baker's Passport is a fun new way for children to learn languages in the kitchen. Passports are currently available in French, Spanish and Japanese with a recipe choice of Butterscotch Brownies, Sugar Cookies or Chocolate Oak Cookies. Each passport combines baking and learning languages in an easily downloadable PDF file that includes a delicious recipe, step by step baking directions and games that will introduce children to reading, writing, and speaking a new language. These baking passports make baking and learning fun by teaching children how to:
Read and follow a recipe
Use basic math and measurements to complete a recipe
Become confident using kitchen tools and appliances
Read, write, and speak introductory phrases, words, and numbers in a new language
AND Baker's Passport also helps children give back to those in need. For each purchase made, $1 is donated to Action Against Hunger, an organization that is working to end world hunger.
The target age for the passports is 5 to 12, which unfortunately meant that F (2.5yrs) wouldn't really appreciate it. Luckily I had two willing volunteers! Miss C (6 yrs) and Miss E (5.5 yrs) came over for a playdate and we got started with the Spanish passport! After reading through the introduction, we made sure that we had all the ingredients and all the utensils to make some chocolate oat cookies.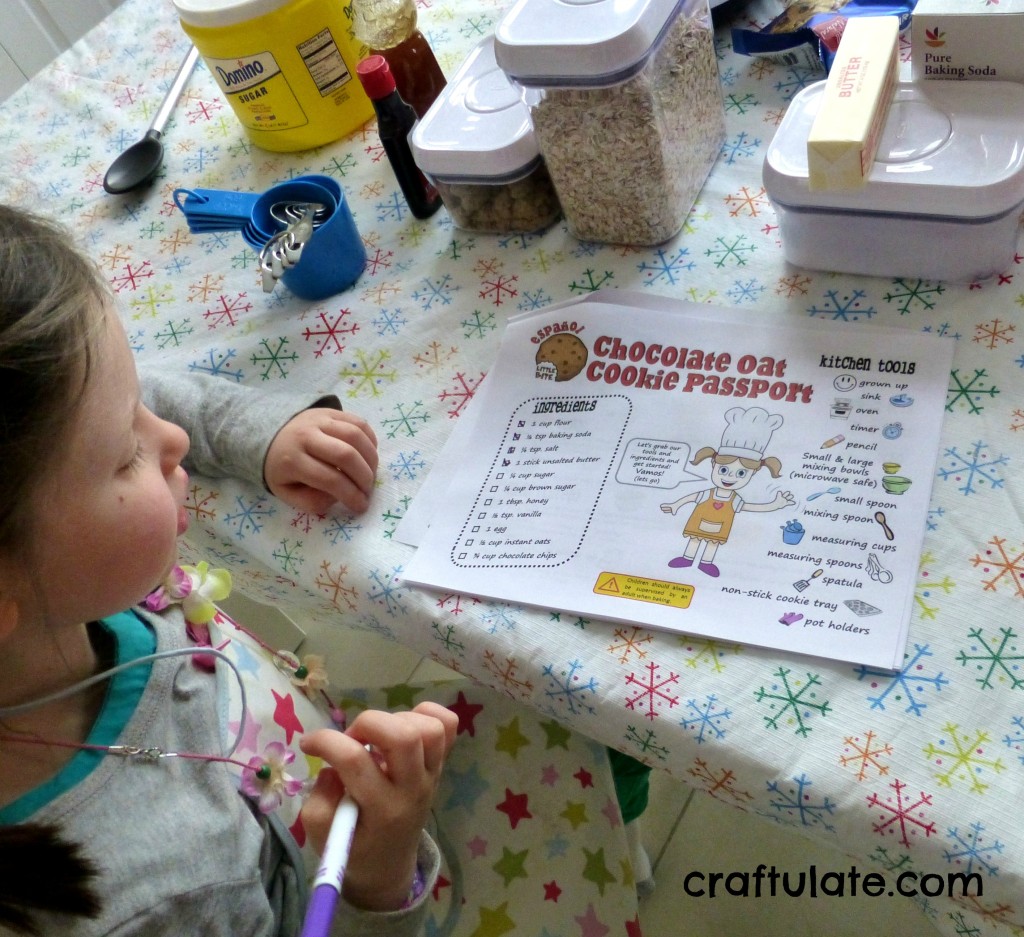 Then we followed the directions – using the Spanish words where suggested. The girls did really well at sharing the measuring and mixing tasks.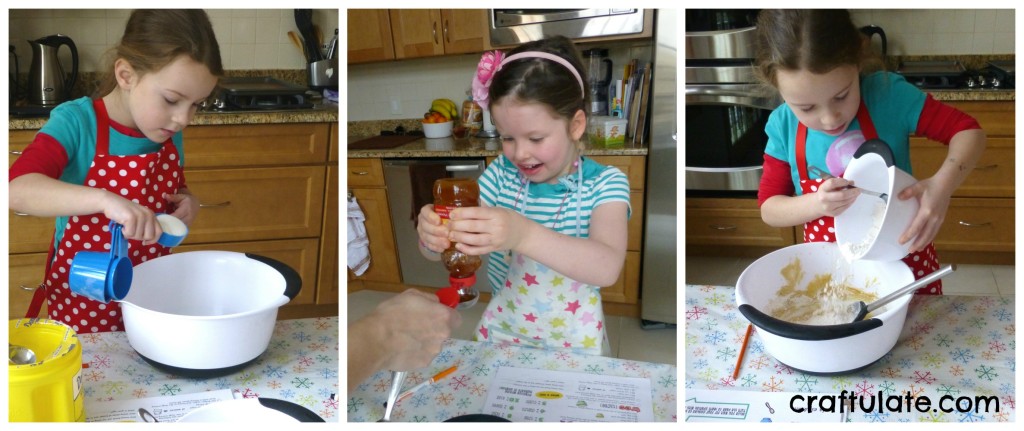 They have both started learning Spanish at school so already knew some of the colours and numbers. But most of the kitchen-specific words were new to them (and me!). The recipe instructions were well written, and the girls were happy to pause every now and then to answer questions like "how many bowls did we use today?", writing down the answer in Spanish.
They measured and mixed all the ingredients, and even my son helped at this point!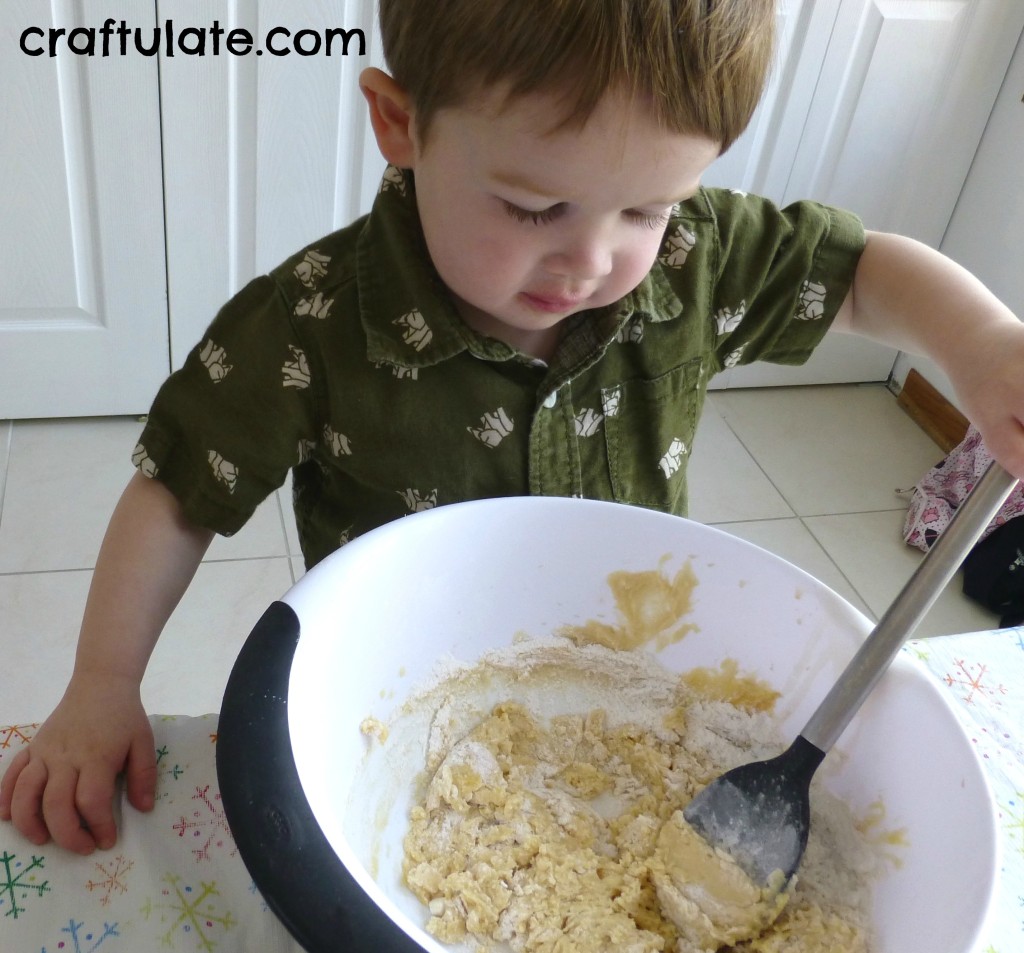 In fact, adding the chocolate chips was truly a group effort!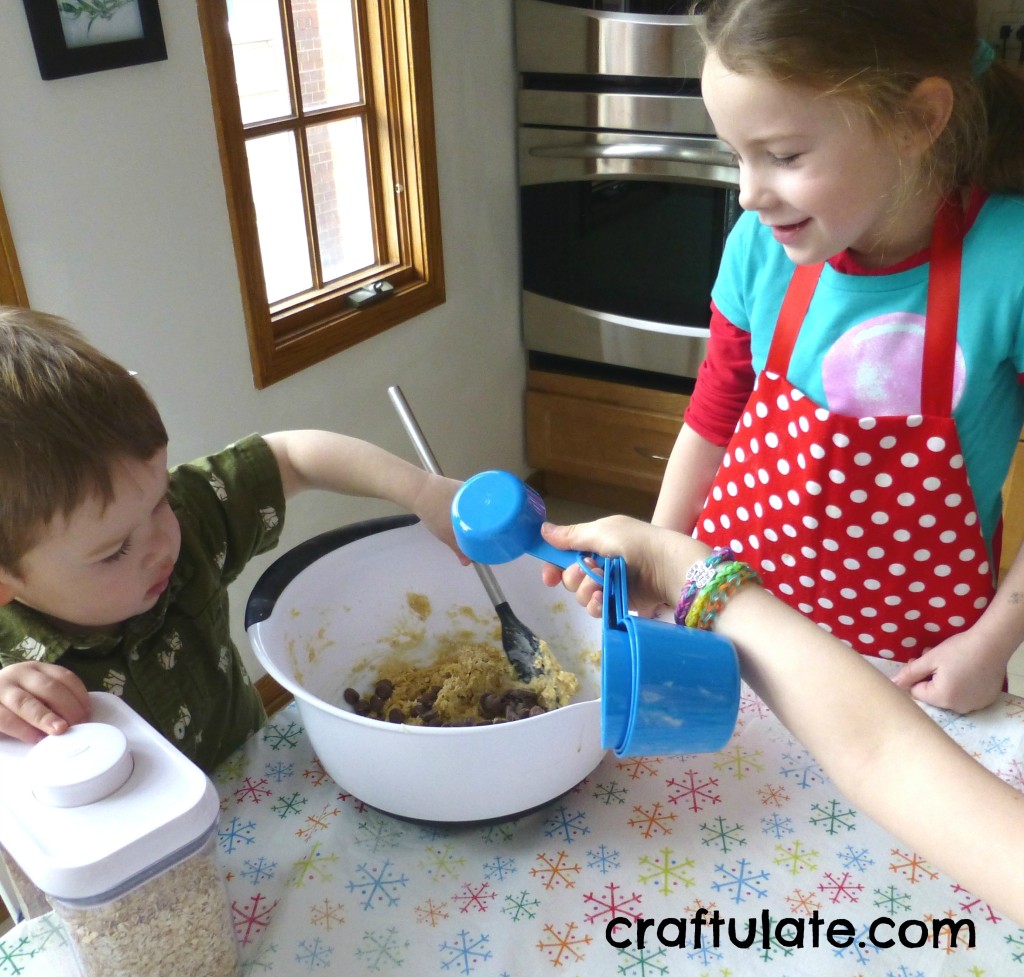 Then the girls spooned the cookie dough out onto silicone mats – and of course they got to lick the spoon afterwards – declaring that it tasted really yummy!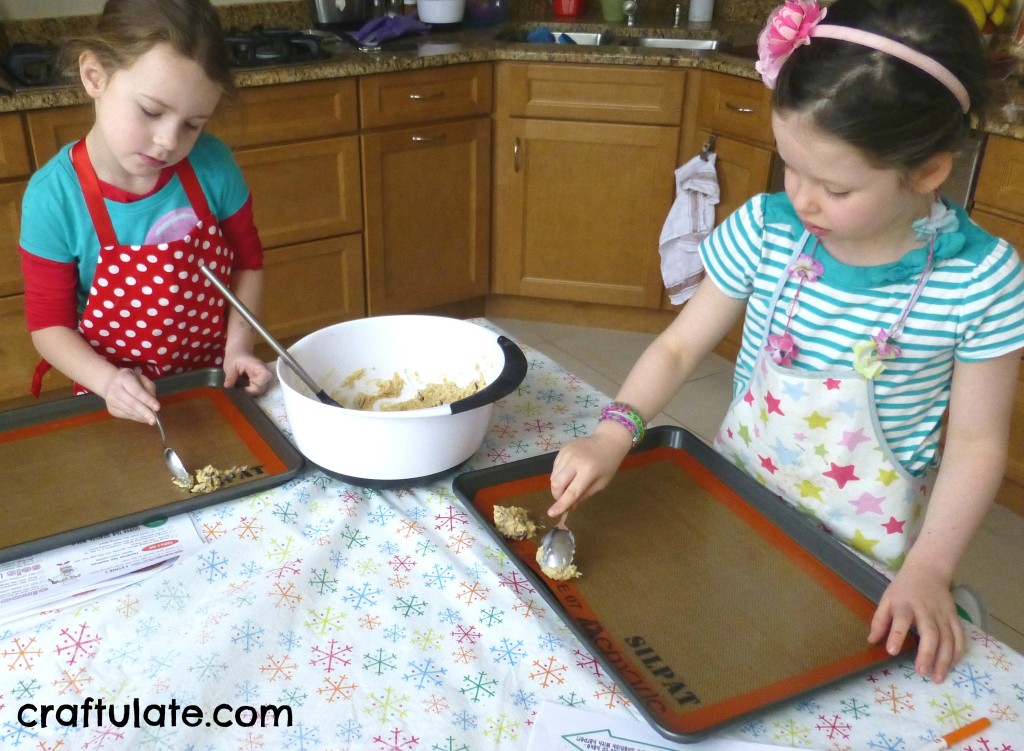 While the cookies baked we did a bit more of the worksheet and started on the crossword. However, by then the cookies were ready to be eaten so that took priority! Even F ate one – and he'd never had chocolate before. Las galletas (cookies!) tasted great!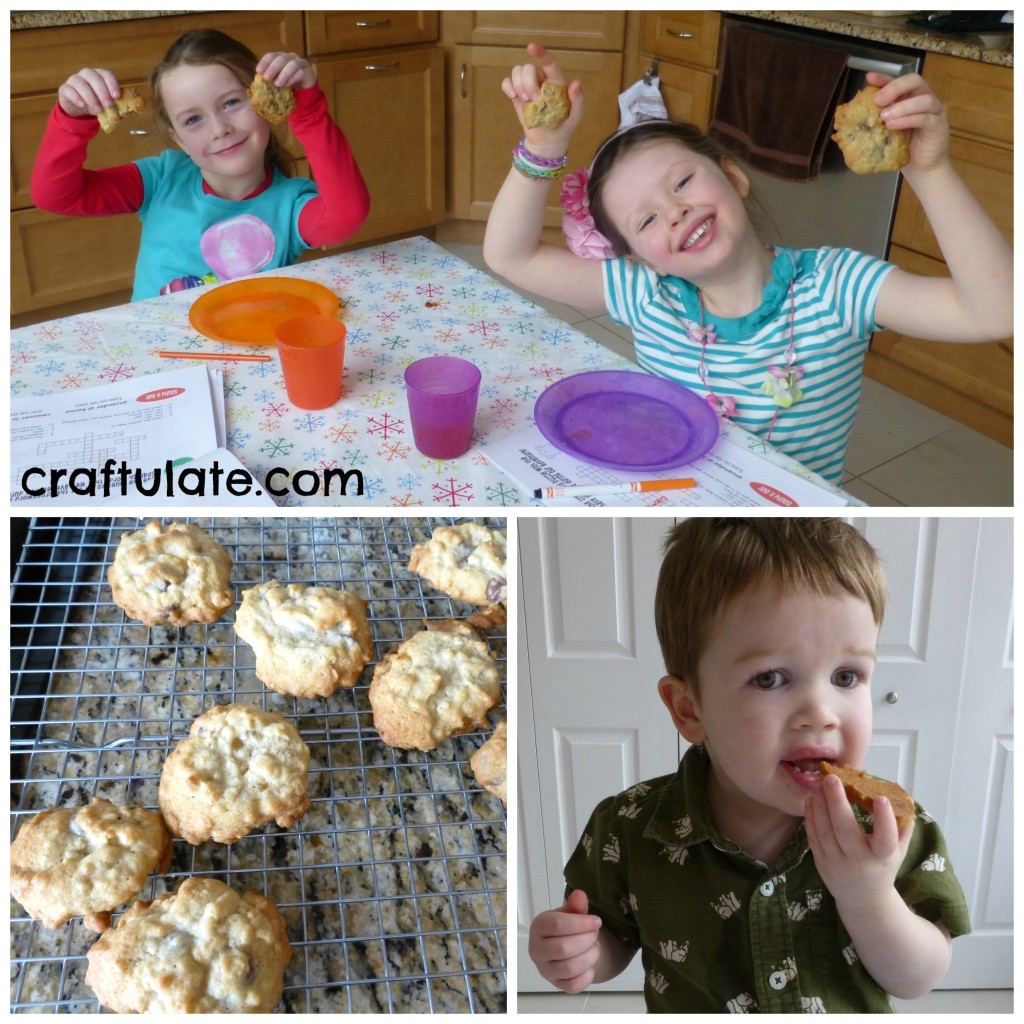 I was really impressed that the girls were happy to engage in the educational part of this activity, rather than just rush through to the cookie-eating part! We had a really lovely playdate – thanks Baker's Passport!!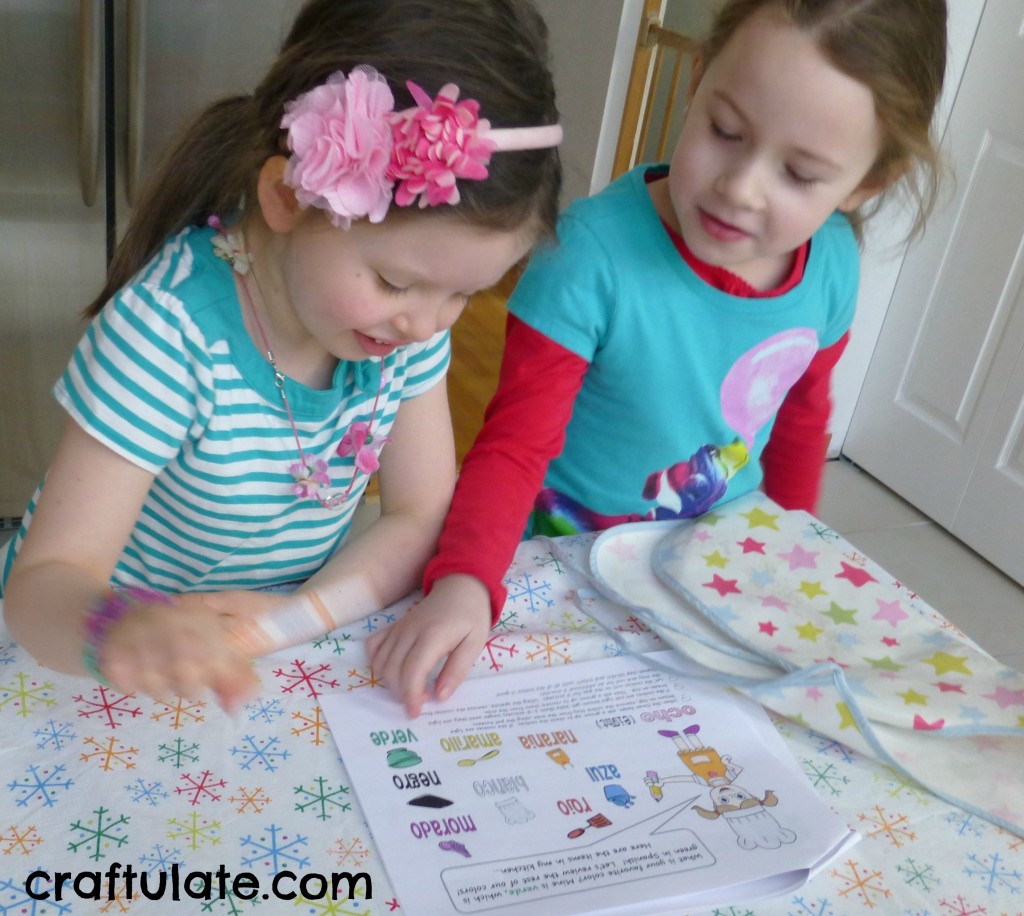 Baker's Passports can be downloaded for $7.50 from their website (remember, $1 of that goes to Action Against Hunger).
This is a sponsored post written by me on behalf of Baker's Passport. Please see my disclosure policy.